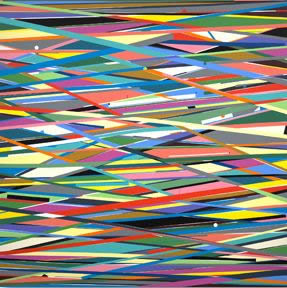 RODEZart.com Gallery Presents: "Hard Edge & Beyond" a Israel Guevara Solo Exhibit
Vernissage will be held on Saturday, April 2, 2011 during Coconut Grove Gallery Walk from 7 to 10 p.m.
CocoWalk
3015 Grand Ave., Suite 237
Coconut Grove, FL 33133
Venezuelan artist Israel Guevara's visual language immerses the viewer into a creatively intellectual yet exhilarating dynamic world of amazing color through his use of sharply defined edges, geometric shapes, bright colors, and his unique and characteristic use of overlapping line-work. His impeccable quality and provocative detail takes Hard-edge painting to a new dimension. His "teaser" style intensifies the viewer's curiosity, luring their attention through a maze of optical illusions from every which perspective.
His architectural background still strongly influences his modernly exclusive creations. His work includes two and three-dimensional paintings and sculptures in various media.
April 2 – 30, 2011
Gallery hours are Monday through Thursday, 11:00 a.m. to 7:00 p.m. and Friday and Saturday, 11:00 a.m. to 10:00 p.m.
Young collectors welcomed! We look forward to meeting you and thank you for supporting the Arts.