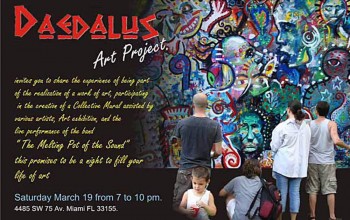 Daedalus Art Projectv Collective Mural
Saturday, March 19, 2011, 7:00 pm – 10:00 pm
Daedalus Art Project
In the Bird Road Art District
4485 SW 75 Avenue
Miami, FL 33155
Daedalus Art Project invites you to a unique art-filled evening. Be part of a collective mural project in conjunction with the Bird Road Art Walk on Saturday March 19 from 7:00 pm to 10:00 pm. The public is invited to assist Daedalus' resident artists in creating a mural during a live performance by The Melting Pot of the Sound.
About Daedalus Art Project
Daedalus Art Project is one of the newest initiatives in the Bird Road Art District. The project was created by Miami-based artists, Ismael Gomez Peralta and Miguel Leiva. The project is a unique artist's co-op gathering creatives from all disciplines, recognizing the importance of individuality in order to achieve collective goals.
About the Name
In Greek mythology Daedalus was a cunning worker, a skilled craftsman and a very fine artist. In Homer's language, objects which are daidala are finely crafted, in the Bird Road Art District Daedulus is a unique co-op of artists sharing a common space, respecting individuality and achieving collective awesomeness!
Daedalus Art Project is located at 4485 SW 75 Avenue in the Bird Road Art District. For more info call 786.545.4552.