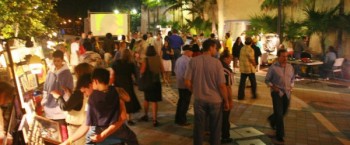 Come Celebrate Viernes Culturales / Cultural Fridays
Friday, February 25, 2011. From 6:30 to 11:00 p.m.
SW 8th Street (Calle Ocho)
between 13th and 17th Avenues
Miami's Best Arts and Music Festival on the last Friday of every month
7:00 – 7:45 p.m. – Free History Walking Tour of Little Havana led by Dr. Paul George. (Meet in front of Tower Theater)
7:00 – 10:00 p.m. – Art Gallery Openings
7:00 – 11:00 p.m. – Carnaval de Barranquilla – La Guacherna
8:00 – 8:30 p.m. – DJ Live
Ongoing – Films at the Tower Theater
Free History Walking Tour of Little Havana led by Dr. Paul George
Dr. Paul George will guide you through Little Havana, pointing out the significance of South Florida bungalow architecture, the Tower Theater, old-fashioned hand rollers at a cigar factory and more. Visit Cuban Memorial Boulevard and observe the monuments that speak to the exile presence in Miami. The tour features architectural details, cultural history and other interesting tidbits from the mind of South Florida's most respected historian.
Carnaval de Barranquilla – La Guacherna
Little Havana is about to get a taste of Colombia, thanks to Viernes Culturales and O&E Arts and Culture. Little Havana will celebrate "Carnaval de Barranquilla en Miami." The upcoming festival called "La Guacherna" will bring Colombian dance troupes, folkloric performances, costumed dancers, Cuban conga players "Tambores Del Sur" and Uruguayan street performers to Calle Ocho. The festivities are scheduled for Friday, February 25th at 7:00 p.m. at Calle Ocho's historical Domino Park. This event will mark the 5th year of "Carnaval de Barranquilla".
Casimiro Gonzalez at the Viernes Culturales Art Gallery
The Viernes Culturales Art Gallery is proud to host Cuban painter Casimiro Gonzalez in its monthly gallery exhibit. Casimiro's work has been exhibited in galleries in Miami, New York, Chicago, San Francisco, Panama, Mexico and Barcelona. He received the Miami-Dade County Certificate of Appreciation award for his valuable contributions to the community. His art work will be displayed at the Viernes Culturales Art Gallery from February 25 through March 25, 2011.
Films at the Tower Theater
To all those cinema lovers we would like to invite you to discover one of Miami's best-kept secrets, the historic Tower Theater. Enjoy a great foreign movie, independent film or art exhibition since the programs at the theater are exquisitely catered for people interested in cultural life. Bringing a refreshing oasis among the popular mall multiplexes, one can find cycles of new independent Spanish cinema, revelations from the Middle East and great works from European masters. And to top it off screenings have English subtitles and prices are just $6 for general public and $5 for students and seniors, can it get any better than this?
Agustin Gainza Fine Art – Exhibition of works of Agustin Gainza
Cremata Gallery – Exhibition of works of Rita Coll
Imago Art Gallery – Exhibition of works of various
Marta G. Ismail Fine Art – Exhibition of works of Marta G. Ismail
Maxoly / Latin Art Core – Exhibition of works of Cuban Masters
Mildred Guillot Fine Art – Exhibition of works of Mildred Guillot
Molina Fine Art – Exhibition of works of Luis Molina
Obrapia / Fine Art Restoration & Framing – Exhibition of works of Pavel Ominchar
Unzueta Fine Art – Exhibition of works of Ramon Unzueta
Vienes Culturales Art Gallery – Exhibition of works of Casimiro Gonzalez
2B Asian Bristo – Alfaro's – Casa Panza Restaurant – Cuba Ocho – Domino's Pizza – El Buen Sabor Cafeteria – El Cristo Restaurant & Cafeteria – El Pub – El Exquisito Restaurant – I Love Calle Ocho – La Casa de Tula – Le'Hooka Lounge – Little Havana to go – McDonald's Restaurant – Oriental Restaurant – Pizza Hut – Quiereme Mucho Morena – Subway – Tower Theater – Tutti Frutti Ice Cream.