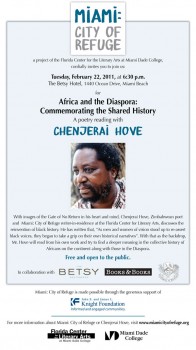 Tuesday, February 22, 2011 | 6:30 p.m.
The Betsy Hotel
1440 Ocean Drive
Miami Beach
Africa and the Diaspora: Commemorating the Shared History – A poetry reading
With images of the Gate of No Return in his heart and mind, Chenjerai Hove, Zimbabwean poet and Miami: City of Refuge writer-in-residence at the Florida Center for Literary Arts, discusses the reinvention of black history. He has written that, "As men and women of vision stood up to re-assert black voices, they began to take a grip on their own historical narratives". With that as the backdrop, Mr. Hove will read from his own work and try to find a deeper meaning in the collective history of Africans on the continent along with those in the Diaspora. Free and open to the public.