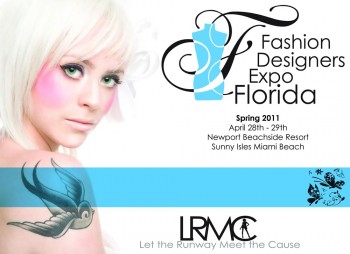 Fashion Designer Expo Florida
April 28th-29th
Newport Beachside Resort & Hotel
16701 Collins Avenue
Miami Beach, Florida 33160
April 30th Golf tournament & Luncheon
Country Club Miami
The Fashion Industry is experiencing an overturn in power. Some fight against it but before long, rising designers will begin to take the throne. Consumers are getting tired of the same designers, repeated fabrics, and mundane patterns over and over. They're demanding something new; fresh model faces, unique makeup artistry, breathtaking wardrobe styling, and eccentric hairstylists.
It's time for the "emerging" to have a strong backing and a secure platform to introduce their passion to the world. www.fashiondesignersexpo.com
Fashion Designers Expo's (FDE) Let the Runway Meet the Cause Campaign supports Alonzo Mourning's Overtown Youth Center during their Spring 2011 Runway Shows on April 28 thru 30, 2011.
FDE's Let the Runway Meet The Cause (LMRC) Campaign gears its focus on being a key benefactor on education by raising funds to support Alonzo Mourning's Overtown Youth Center's educational and recreational programs. Alonzo Mourning's Youth Overtown Center will be the Primary Beneficiary for FDE's Let the Runway Meet the Cause 2011 Campaign. LMRC's fundraising efforts aims to support the educational and recreational programs that were created to give disadvantaged youth a better quality of life.
FDE's passion for impacting the world is driven through their core element, "Let the Runway Meet the Cause" (LRMC) Campaign. LRMC was created to bridge the cutting edge and trendsetting Fashion Industry, with the powerful impact of the top Non-Profit Organizations to impact the world and bring dreams to reality. Founders of Fashion Designers Expo: Karine Melissa Purchas, Tahaji Smith, and Clinton K. Powell, have since raised thousands of dollars since 2007 for various philanthropies in the Miami and surrounding areas. LMRC will host their campaign during the Fashion Designers Expo Events on April 28 – 30, 2011.
Ticket sales open on March 1, 2011. Ticket prices ranges from $50 for VIP Seating, $25 for General Seating, Standing Room- RSVP only with a cash or back to school supplies donation at the door. Back to school supplies donated will support the Young Dreams Community Outreach program.
Alonzo Mourning's Overtown Youth Center programs are designed to engage children in educational and recreational activities that promote their physical, cognitive, motor, social, and emotional development. During the after school hours, students attend daily educational enrichment classes focused on homework assistance, skill building, FCAT preparation, and remediation. Students participate in daily recreational activities that include culturally diverse forms of physical exercise and creative arts. OYC offers a range of preventive and character-building activities designed to empower children to identify and avoid negative influences and to pursue positive ones. OYC's In-School Coordinators provide daily case management of and advocacy for OYC participants within their schools and within the community, tracking scholastic achievement, attendance, and behavior of the students. OYC coordinators build one-on-one relationships with students and develop Individual Success Plans for each student. www.overtownyouth.org.
Fashion Designers Expo Florida, on its fifth year, is an exciting Fashion Week designed to show the world new superstars in the emerging Fashion Industry. From extravagant runway shows to luxurious parties, FDE Florida attracts the attention of thousands of Fashionistas worldwide.
FDE Florida proudly supports and donates a portion of the proceeds to top charity organizations like Alonzo Mourning Overtown Youth Center to "Let the Runway Meet the Cause", says FDE Florida CEO Karine Melissa. "Bringing Dreams to Reality is our sole purpose; this means the dreams of everyone we come in contact with and even those we'll never meet."
This year Fashion Designers Expo Florida adds "Fashion on the Green", the most posh Golf Tournament you've ever seen in the corporate world. FDE is a chance for designers, artists, models, and stylists, to showcase their talent to the world. The runway shows will be held on Thursday April 28 thru Friday April 29,2011 at the Newport Beachside Resort and on Saturday April 30, 2011, "Fashion on the Green" Golf Tournament will be held at Country Club of Miami. For more information, go to: www.fashiondesignersexpo.com