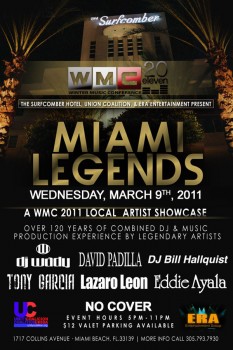 Miami Legends Artists Showcase
March 9th, 2011, 5PM – Midnight
The Surfcomber Hotel
1717 Collins Avenue
Miami Beach, Fl 33139
Facebook Evite.
RSVP please contact Eddie Ayala 305.793.7930 ♦ eraproductions@usa.com
The Surfcomber Hotel • Unity Coalition & ERA Entertainment Group
Cordially invite you & your guests to a historical WMC 2011 event.
Over 120 years of combined experience by local DJ/Producers
• Lazaro Leon (Gerry Kelly's Studio 54 Legend) 5PM – 6PM
• Tony Garcia (Fire & Ice Legend) 6PM – 7PM •
• DJ Wady (Bedroom Muzik Records) 7PM – 8PM •
• DJ Bill Hallquist ( Crobar Legend) 8PM – 9PM •
• David Padilla (Warsaw Ballroom Legend) 9PM – 10PM •
• Eddie Ayala (Ovo & Club Nu Legend) 10PM – 11PM •
Please join us by supporting our local artists and Unity Coalition during this historical event. Unity Coalition mission is to provide leadership, protection & promotion among Latino/Hispanic gay local community.
No Cover Event hours are: 5PM – 11PM (no later than midnight).
$12.00 Valet parking is available • Casual Attire Recommended.
RSVP is required since this event will reach capacity quickly.