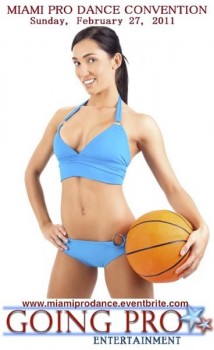 Miami Going Pro Dance Convention
2/27/11, 9am
FitSource Fitness Club for Women
12415 Biscayne Boulevard
North Miami, FL 33181
miamiprodance.eventbrite.com
The MIAMI "Going Pro" Cheer/Dance workshop is quickly approaching and spots are filling up fast! We expect a great day of choreography, presentations and networking!
Here's a peek at our exciting line up for the Miami Convention, Sunday, Feb 27, 2011 at FitSource in North Miami:
CHOREOGRAPHERS
Our choreographers are top alumni and directors of dance and cheer teams in the NFL, NBA, AFL, MLB and other sports leagues. They will teach 6 sidelines and 2 routines in length of 45-60 seconds, representing all major sports leagues.
**Aubrey Aquino, NBA Dancer – Sacramento, NFL Cheerleader-Oakland and Arizona, TV Reporter/Host-Miami
**Trisia Brown, NFL Cheerleader – Miami, NFL Pro Bowl Cheerleader, NFL & Pro Bowl Choreographer, Dance Studio Owner-FL
**Elizabeth "Eli" Ferrades, NBA Dancer-Miami
**Tiffany Jackson, NBA Dancer-Miami
COSTS
** Morning (9:00am-12:00pm): $45
** Afternoon (1:00pm-4:00pm): $45
** Full day (9:00am-4:00pm): $79
** Discount: 15% off early bird registration before February 17!
** Directors: Bring 2 or more squad members and receive complimentary admission.
REGISTER at miamiprodance.eventbrite.com