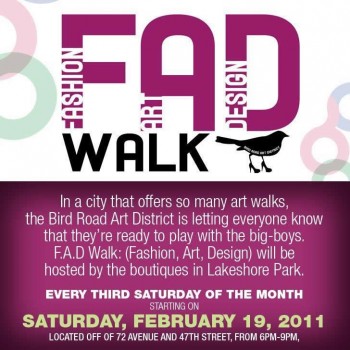 F.A.D. Walk: A night of Fahion, Art and Design.
Every Third Saturday of the Month, 6pm-10pm
Lakeshore Park, on 72 avenue and 48 street.
Lakeshore Park
4650 Southwest 72nd Avenue
Miami, FL 33155-4516
www.fadwalk.com
In a city that offers so many art festivals and art walks, one community is stepping up to the plate and letting everyone know that they're ready to play with the big boys. F.A.D Walk: Fashion, Art, Design Walk will be hosted by many of the boutique stores and Art Galleries at Lakeshore Park in The Bird Road Art District, located off of 72 Avenue and 47th Street. The F.A.D. Walk will take place every third Saturday of the month from 6pm-9pm, with the inaugural walk on Saturday, February 19, 2011.
What's an art walk without food, music and drinks, you ask? Don't think you will find a hot dog or arepa stand around here, F.A.D. Walk will feature some of Miami's best and oh-so- trendy gourmet food trucks as well as plenty of live music to keep your feet moving. Participating stores will be providing complimentary wine to anyone that stops by. Not into art, fashion, or design? That's O.K., at least come by for a drink on the house and a fun, free evening.