KCC Productions and the Museum of Contemporary Art present Nicole Henry
Friday, February 25, 8 pm
Free. Rain or shine.
770 NE 125 Street
North Miami | FL | 33161
MOCA welcomes back the always popular Nicole Henry for a free outdoor performance. Nicole Henry's beautiful and unforgettable voice combines jazz and pop with soulful nuances and a spirited zest for life. She performs selections from the Great American Songbook as well as inspirational and love songs with a fresh and distinctive delivery that lends luster and meaning to each piece. She has appeared at The Rainbow Room, Cotton Club and Lincoln Center in New York City and has released three critically acclaimed jazz albums: "The Nearness of You," "Teach Me Tonight" and "The Very Thought of You." North Miami's Arts & Business District will be open that evening.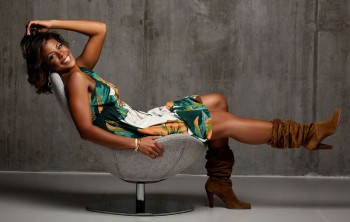 Sophisticated, soulful and fun, Nicole Henry has won praise from both critics and audiences worldwide for her powerful ability to truly touch and inspire people with her beautiful voice and stunning presence. She has released three international TOP 10-selling jazz CDs within the past six years and has toured in over fourteen countries. Jazz Improv writes, "…beautiful, emotionally evocative…a terrific voice and a sensitive way with a lyric."
It's with that same sensitivity that Nicole Henry mesmerizes audiences wherever she goes. Uplifting and captivating, her voice embraces jazz, pop and soulful nuances with a spirited 'joie de vivre." In 2004, after falling in love with the melodies, lyrics and freedom of jazz, Nicole released her solo debut CD The Nearness of You to critical acclaim. HMV Japan named Nicole "Best New Jazz Artist of 2004". The CD climbed to #2 on HMV Japan Jazz Charts, and stayed in the TOP 10 for three months, second only to Norah Jones. In the U.S., Nicole received rave reviews and was featured on national jazz radio, including XM and Sirius Satellite Radio. Her follow-up CD, Teach Me Tonight with the Eddie Higgins Trio reached #1 at HMV Japan, and earned her their honor of "Best Vocal Jazz Album of 2005."
Nicole's latest CD release, The Very Thought of You reached #7 on the U.S. Billboard Jazz Chart in 2008, positioned between Diana Krall and Tony Bennett. This romantic CD features love songs, originals and gems from the great American Songbook. After international touring to support the CD release, in May 2009, Nicole debuted her talents at NYC's Metropolitan Room. This lead to a monthly feature and by April 2010, after rave reviews by Stephen Holden of the NY Times and Chuck Taylor, former senior editor of Billboard magazine, Nicole was honored by NYC's cabaret scene with the "2010 BISTRO Award for Outstanding Jazz Vocalist."
Other career highlights include performing 14 concerts in Japan with the Duke Ellington Orchestra; sharing the stage with Michael Feinstein in Dallas for a Larry Rosen JAZZ ROOTS concert; being honored by Miami-Dade County's In the Company of Women "Arts & Entertainment Award; singing the National Anthem on FOX's 2010 FedEx Orange Bowl for over 15 million viewers and the average 150 annual performances she is involved in throughout the world.
Nicole's impressive voice and ever increasing international popularity are also recognized by Delta Airlines. Among a select group of jazz greats like Miles Davis and Cassandra Wilson, Delta featured Nicole's The Nearness of You CD and The Very Thought of You for almost three years on all transcontinental and international flights. In the world of fashion, Nicole's performance wardrobes have been sponsored by Nicole Miller out of their South Beach- Miami boutique. Billboard wrote that "Henry is a jazz vocalist on the cusp of bigger things," and indeed she continues to be. Once you hear her there is one thing upon which everyone seems to agree, Nicole Henry is simply one of the finest vocalists to emerge this decade.