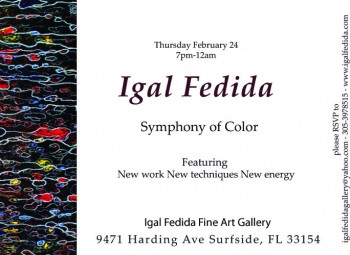 Igal Fedida Fine Art Gallery
February 24, 2011 7 pm-midnight
9471 Harding Ave
Surfside
The Symphony of Colors at 9471 Harding Ave in Surfside will be an evening event bringing artists and art lovers together to experience Igal Fedida's new artwork, new techniques and new energy. The event will begin at 7PM and continue until 12AM. There will be wine, artists and new artwork by Igal Fedida. Igal's artistic journey derives from the countless images he's taken while traveling to the far reaches of Earth and from the original canvases of heart rendered symbolist and expressionistic works. His mediums are many and influences akin to the school of thought which brought about the concept of moving art. Igal Fedida is described as the "new kid in town," his art fascinating viewers with its daring, yet pleasant and captivating result. Igal's approach is intriguing people to explore, learn and feel abstract. If you love art, you NEED to be at this event! Bring your friends!