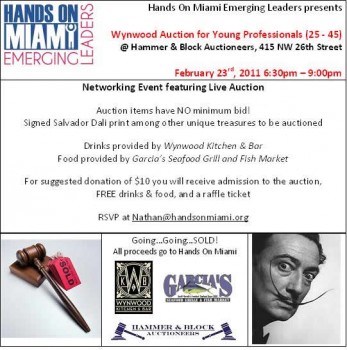 Hands On Miami Emerging Leaders Presents: HammerTime @ Hammer & Block
2/23/2011, 6:30pm
Hammer & Block Auction House
415 NW 26th Street
Miami, FL 33127
Facebook evite.
Going…Going…SOLD!!!
Enjoy FREE food and drinks with Hands On Miami's Emerging Leaders at Miami's hottest Auction House, Hammer & Block!
You will have the unique opportunity to participate and bid on a live auction as well as take part in a silent auction as well! All auction items will be placed with no reserve (no minimum bid) so you will have the opportunity to walk away with a steal!
For a suggested donation of $10 you will receive admission to the auction, free food and drinks, and a raffle ticket!
To RSVP, please contact Nathan Reiser at 305-646-7200 ext. 215 or Nathan@handsonmiami.org.