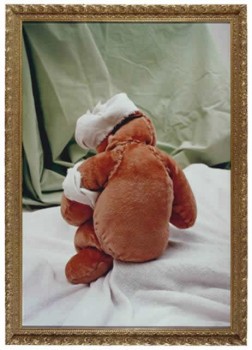 Diana Lowenstein Fine Arts invites you to visit during the Wynwood Second Saturday Gallery Walk
7:30 to 10:00pm
Diana Lowenstein Fine Arts
2043 N Miami Avenue
Miami, FL 33127
www.dlfinearts.com
RALF PETERS | 100 Masterpieces
Parody, the 'song sung awry' is an underrated artistic form. It is often through works of comedy that we feel tragedy or happiness most profoundly. Only later does reason confirm what has become softly embedded at the level of recognition.
Peters' 100 Masterpieces do this outstandingly well. They do not demand momentous change. The comic does not deliberately try to evoke the tragic. It is inside you from the beginning. You go on to each golden frame so that, smiling, you can store the next insight under your skin. Parody offers a lingering pleasure, an agreeable moment of recognition. –Heinz Kattner
Peters was born in Germany, where he studied at the Akademie der Bildenden Kunste in Munich and the Hochschule fur Bildende Kunste in Braunschweig. He also studied at the Ecole des Beaux-Arts in Nimes, France. His work has been exhibited throughout Europe, as well as North and South America.
Project Room: Gerry Stecca
The concept of repetition reaches its climax with each one of the CLOTHESPINS series' compositions, formed by hundreds or thousands of clothespins. Each one is hand-drilled and connected to the next by wire and a great deal of patience.
Mostly non-representational, these shapes and installations gain life and form, growing and expanding like a virus in a perfect environment as they are put together, ever-surprising the artist as well as the viewer.
An underlying message of conservationism, recycling and environmental awareness is obvious in this series, as the material used represents small devices of energy conservation as well as nostalgic reminders of a simpler time. –Gerry Stecca
Originally from Venezuela, Stecca has lived and worked in Miami for twenty years. He graduated from the University of California, San Diego with a degree in Visual Arts. He actively exhibits his work here and abroad.