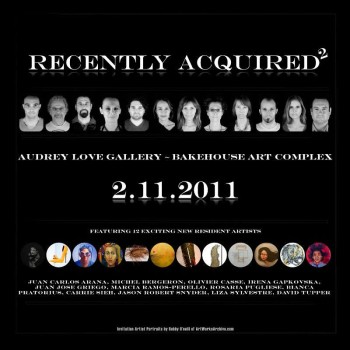 Opening Receptions for BAC's two new exhibitions, the BAC Yard Party
February 11th, 2011 at 7pm
561 NW 32nd Street
Wynwood Arts District
Miami, FL 33127
305.576.2828
www.bacfl.org
Opportunity to witness a diverse and talented community of over 65 contemporary artists!
Music from DJ V * Open Wine Bar * Free Parking
Original artwork makes a great Valentines Day present and is a wonderful way to support your local artists and the community!
Art In The Yard
Outside and Behind BAC
Exhibiting artists include Michel Bergeron, Juan Griego, Robert McKnight, Donal McKnight, Gustavo Oviedo-131 Projects, Gary Fonseca, Jose Pinto, Nicholas Nehaniv, Colleen Kelley, Louise Markus, Grant Genova & Gerbi Tsesarskaia.
Go Figure! People, Pets & Portraits
Swenson Gallery
A small exhibition of 6 BAC Artists whose work delineates the figure in drawing, painting and sculpture. The exhibition will consist of the various ways people and pets are represented- and will include portraits, as well as representational and abstract depictions of people and animals. Gerry Stecca, Jean-Paul Mallozzi, Luis Diaz, Tim McCarron, Mervyn Aronoff & Daniel Fila.
A portion of the exhibition's sales will benefit the Humane Society of Greater Miami's Young Professional Group, PetNet.
Recently Acquired 2
Audrey Love Gallery
The BAC will exhibit the work of 12 BAC resident artists, all of whom have taken residency at the BAC over the past 12 months. These Recently Acquired artists will explore a variety of media. Artists include Juan Carlos Arana, Michel Bergeron, Olivier Casse, Irena Gapkovska, Juan Jose Griego, Marcia Ramos-Perello, Bianca Pratrious, Rosaria Pugliese, Carrie Sieh, Jason Robert Snyder, Liza Sylvestre & David Tupper.
Exhibition will be on view until March 1st, 2011.