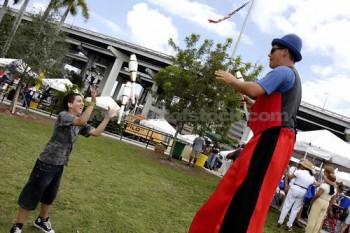 Riverfront Community Art Festival For The Kids!
Feb 12th, 12-4p
Jose Marti Riverfront Park
362 SW 4th Street
Facebook Evite.
Hey Guys this Saturday from 12p-3p we will be having an Art's Festival for the community
Artists and Poets please confirm with me by this week if you can participate. We appreciate it a lot.
Feb 12th we are having an event for children and the community at the Jose Marti Park near Flagler. There will be a few musical acts and what we need is some artists to be live painting and/or selling some prints, pieces, etc. The reason for this festival is to get kids interested in signing up for art classes. It is only from 12p-3p and there are many incentives for the artists too. They are having two 150$ raffles for the artists and giving away an i pod or two Please confirm if you can make it this day. I would appreciate it a lot since this is for the kids and
getting them back into ART!!! Please help me
Love And Light