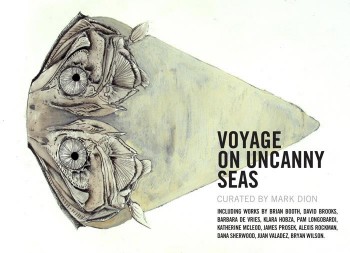 Opening Reception Friday, February 11th, 2011 6 – 8 PM
174 NW 23 Street
Miami, Florida 33127
The exhibition Voyage on Uncanny Seas convenes a collection of visual artists committed to a focused consideration of the Ocean. Two resent significant marine events function as the polar opposite touchstones for the conceptual framework of the exhibition.
The first is the occasion of the completion of the decade long Census of Marine Life, the world's largest scientific collaboration which brought together 2,700 scientists from 80 nations to conduct over 530 expeditions of discovery to develop a comprehensive view of the past, present and future of life in the world's seas. This resulted in the finding of more that 6000 new species, of which only 1500 have been thus far described. The oceans were affirmed as the site of mega-biodiversity, and animals and plants of uncanny strangeness and wondrous behavior were brought to light.
The second touchstone is the Deepwater Horizon oil spill, an environmental catastrophe of such dreadful magnitude that its extensive damage to marine habitats will be felt for decades to come. Between April 20th and September 19th 2010, over 4,900,000 barrels of crude oil escaped into the waters of the Gulf of Mexico, creating an 80 square mile kill zone.