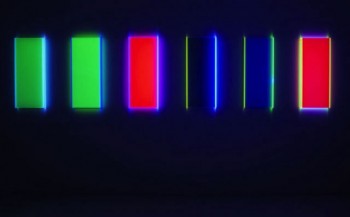 Lausberg Contemporary presents "Lollipop" by Regine Schumann
Saturday, February 12, 2011. 7:00 p.m.
Lausberg Contemporary, Miami
1929 NW 1st Avenue
Miami, FL 33136
www.galerie-lausberg.com
Dates: From February 12 through March 16, 2011
Regine Schumann lives and works in Cologne, Germany. From 1986 to 2007 Schumann was granted numerous scholarships from prominent institutions in Germany, Italy and the UK. In 2006, she was nominated for the 3rd International Painting Prize of the Castellon County Council (at the Museo de Bellas Artes de Castellon, Spain) and in the same year obtained the Leo Breuer prize from the Rheinisches Landesmuseum Bonn (Rhine Regional Contemporary Art Museum, Bonn). She has appeared in numerous gallery solo exhibitions in Germany, Belgium, The Netherlands, Japan, Italy, the UK and the United States, as well as in renowned museums and cultural centers, such as Candela Villa Zanders, Berg / Gladbach und St�dtisches Museum Engen; the Celle Art Museum; and the Schloss Neuenb�rg, Badisches Landesmuseum Karlsruhe.
In 2009 she participated with Galerie Lausberg, D�sseldorf and Lausberg Contemporay, Toronto in the Los Angeles Art Show, Art Chicago, Art Miami and Art Toronto. For the 2009 LA Art Show, Schumann presented her Dream Team Installation. In 2010, she presented Black Box at Art Miami. Last year, she additionally exhibited at the Frauenmuseum, Bonn, the Vasarely Museum, Budapest, Art Rotterdam, Art Paris, Art Amsterdam and Art Santa Fe.
As the names for her exhibitions and installations insinuate, Schumann plays with color, light, transparency and optical illusion using her intense and unique color and material sensibility to delight and impress the viewer. Among her exhibition titles are: Transparency – Looking Through, Night Owls, Art of Light, Light Tunnel, Chameleon, Day and Night, the Glow, Color Mirror, and Lollipop. Lollipop debuts in the U.S. at Lausberg Contemporary, Miami opening Saturday February 12th from 7:00 to 10:00 p.m. Show runs February 12th to March 16th, 2011. We remind our visitors that Lausberg Contemporary, Miami has ample parking on its premises.
"Black Box Glowing was my first solo show at Art Miami 2010, presented in cooperation with Galerie Lausberg, D�sseldorf and Galerie Bender, Munich. All translucent acrylic glass works or flexible plastic woven works were shown under black lights, which created a light aura surrounding each work and distributed a shimmering reflection to the nearby walls. My upcoming solo show at Lausberg Contemporary, Miami�s Wynwood Art District location will look like a "White Space Glowing", as most of the fluorescent works also have a radiant quality during normal daylight hours. Only the special installation Lollipop will be displayed under black lights."
"I react to certain places with a desire to be challenged by their unique qualities of space and light. I factor into my creations both the significance of historical and current usages, which constitute the backdrop for my projections. For me, space is like a mantle that surrounds a bright idea. Through my intense involvement with fluorescent bodies and black light, being surrounded by my works day and night, I am keenly aware of the chameleon-like changes in these art objects. These subtle changes are key to my art. I am interested in affecting the radiant qualities of my works. My objects change continuously from day to night. During daylight hours, the surface of the Plexiglas reveals the reflection of the perceiver, hence the name "colormirror". In darkness, under black lights, the works' luminosity is magically highlighted, at times glowing intensely with aura. The colormirror surfaces, smooth and sharp-edged by day, under the blacklight look mysteriously dif fuse, almost matte to the naked eye. The Plexiglas seems to become immaterial. The installation Lollipop, 2009 at the Kloster Gravenhorst artists� house consisted of a circular arrangement of thick bundles of fluorescent tubes in different colors. The diameter of this circular source of illumination was almost 15 feet. The experience of viewing this installation is akin to viewing a busy highway by night, with traces of light appearing on the retina as aftereffects of rapid movement."
Regine Schumann
Cologne, 2/2/2011
For more information about local openings and events, please visit www.miamiartguide.com
Regine Schumann. Lollipop. Solo exhibition view at Lausberg Contemporary, Miami. 2011