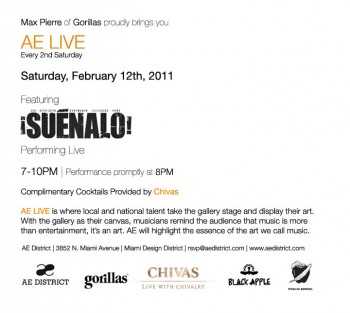 Saturday, February 12th, 2011 from 7:00PM – 10:00PM
AE District
3852 N. Miami Ave.
Miami FL. 33127
(Corner of 39th and N. Miami)
Max Pierre of Gorillas proudly brings you "AE Live" (every 2nd Saturday)
Featuring: Suenalo Performing live…
Suenalo performs Promptly at: 8PM
Please RSVP to rsvp@aedistrict.com.
Complimentary Cocktails by: Chivas
"AE Live" is where local and national talent take the gallery stage and display their art. With the gallery as their canvas, musicians remind the audience that music is more than entertainment, it's an art. AE will highlight the essence of the art we call "Music".
For Info rsvp@aedistrict.com