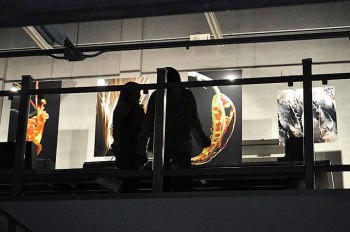 Bird Road Art Walk Unveils New Logo
Saturday, February 19, 2011, 7:00 pm -10:00 pm
Throughout the Bird Road Art District
Aperture Studios
7360 SW 41 st Street
Miami, FL
Go behind-the-scenes, in one of Miami's oldest art districts. Visit open studios, view gallery exhibitions, meet the artists, enjoy complimentary
cocktails and hors de'ouvres, plenty of free parking and our complimentary shuttle bus service that will take you to each studio throughout the night.
On Feb 19 we invite you to start the night at Aperture Studios located at 7360 SW 41st Street for a special Champagne Reception at 7 pm for the unveiling of our new logo. From there we invite you to take our shuttle bus and go studio hopping and people watching.
Most of the studios offer complimentary wine and eats but some of our favorite gourmet food trucks will also be on hand along the way.
There is plenty to see and enjoy at the Bird Road Art Walk. You'll want to visit all the participating studios & alternative art spaces:
Accent Alternative Art Space
Akuara Teatro Workshop
Art Works II
Aperture Studios
Carlos Antonio Rancano
Chavarriaga Art Studio
Daedalus Art Projects
Erik Speyer Studio
Esteban Blanco Art Studio
G Peralta Fine Arts
Gina Guzman Stained Glass Studio
Lambertini Art
Luis Fuentes' Radical Art Spot
Madero Art
MANO Fine Art Studio/Project Space
Miami Art Club
Nestor Arenas Fine Art
Nickel Glass Studio/Matthew Miller
Onate Art Gallery
Pablo Lazo Studio
Rafael Consuegra/Caudart Gallery & Studio
Ray Azcuy Art Studio
Romero Hidalgo Artists' Studios
Tropical Art Gallery@Palmetto Rug
The Warehouse/Roberto Bilbao
Valmar Design Studio
Getting there …
The Bird Road Art District (BRAD) is located just off the beaten path, east of SW 75th Avenue, which runs alongside the Palmetto Expressway and between Bird Road (SW 40th St) and SW 48th St. The majority of the artist's studios are located off of SW 75th Ave.
Tell your friends about the new Bird Road Art Walk every third Saturday from 7:00-10:00 pm
Become a fan on facebook-Bird Road Art District.
Website coming soon: www.thebirdroadartdistrict.com.
More info? Call 305.467.6819