Life Is Art and Soul Of Miami present
River Of Art
Showcase, Networker, Party & Fundraiser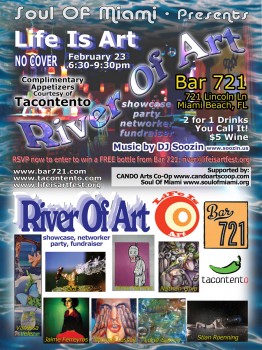 February 23, 6:30-9:30pm
Bar 721
721 Lincoln Ln
Miami Beach, FL
2 for 1 Drinks You Call It! $5 Wine
Complimentary Appetizers Courtesy of Tacontento
Participating Artists
Clara Ruiz
Jaime Ferreyros
Lorie Setton
Monique Lassooij
Nathan Gnip
Vanessa Velez
Vince Herrera
Music by DJ Soozin
RSVP now to enter to win a FREE bottle from Bar 721. (You must be present to win.) CLICK HERE.
Supported by:
CANDO Arts Co-Op
Artcenter/South Florida
Soul Of Miami
Join Life Is Art and many artists and art lovers for a fun evening of networking, art and music. We are featuring several outstanding south Florida artists, so come check out their work. This is a great opportunity to meet and socialize with other artists and art lovers; make new connections, set up potential collaborations; and find new fans.
Bar 721 is offering 2 for 1 drinks (full bar!) and $5 wine to lubricate your gears. Tacontento is providing complimentary appetizers to charge your engines. DJ Soozin is supplying musical accompaniment to keep you rolling. AND, if you RSVP now, you will be entered to win a free bottle-service from Bar 721!