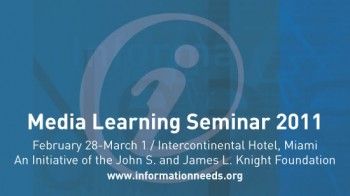 Monday, February 28 through Tuesday, March 1
Intercontinental Hotel, Miami
To participate, please register by Feb. 5, 2011 CLICK HERE.
More Information.
As leaders with the pulse of your community, your foundation is uniquely positioned to make a difference in this field. Join us at the 2011 Media Learning Seminar for a lively discussion and the sharing of ideas for action.
On Feb. 28 and March 1, 2011, the John S. and James L. Knight Foundation will host the fourth annual Media Learning Seminar for U.S. community and place-based foundations. Over two days, local leaders, tech experts and your peers in philanthropy will explore how foundations can – and are – helping residents be informed about the issues that shape their communities.
In addition, presenters at the top of their field will speak, including Huffington Post Editor Arianna Huffington, Facebook co-founder Chris Hughes and the FCC's Steve Waldman, who has been charged with making recommendations to ensure a vibrant media landscape.
Much has changed in this area of philanthropy since the seminar first launched in 2008.
As traditional media has struggled, funders have increasingly viewed the need for information as critical as that of clean air, good jobs and thriving schools. In fact, over the last few years, more than 75 locally focused foundations have invested in partnerships that support local news and information projects – for a total of $165 million, a recent Knight Foundation survey found. Some of those foundations are our partners in the Knight Community Information Challenge, a matching grant program.
The result is a wealth of knowledge about funding news and information projects, which we will leverage during the seminar. At both plenary and in depth breakout sessions, participants will discuss what works, what doesn't, and how we can all improve the local flow of information to better our communities.
With support from Knight Foundation, there is no registration fee for the seminar, which will take place at the Hotel Inter-Continental in Downtown Miami. Foundations can bring one senior staff member and one board member and registration is on a "first-come, first-served" basis until the seminar is full. Knight's funding also makes possible a reduced hotel room rate of $229 per night for seminar attendees available through the on-line registration.