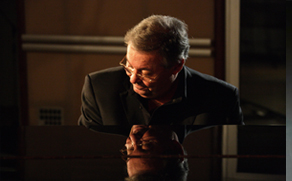 The Consulate General Of Spain And Ccemiami Present: Piano Concert Jose María Vitier
Saturday February 19, 2011 @ 8:30PM
Colony Theater
1040 Lincoln Road Miami Beach, FL 33139
Tickets: $25 general, $20 seniors and students, $15 CCEMiami members with ID.
click here to buy tickets.
Jose Maria Vitier.
"Del Espacio y la Memoria"
Vitier will be accompanied by special guests and friends.
José María Vitier (born January 7, 1954) is a Cuban music composer and pianist. He has made music for movies and television, as well as compositions for piano, symphonic orchestra, chamber orchestra, among other formats. His style often combines the classical and Cuban folk music styles. Some of his most remarkable works are his compositions for the Cuban film Fresa y Chocolate, and his Cuban mass.