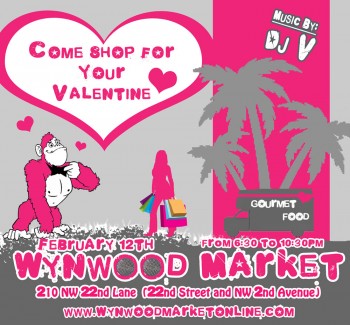 Wynwood Market
February 12th 2011, 6.30 to 10.30
Wynwood Market on Lombardi Properties
22nd and NW 2nd Ave
Wynwood Market is launching its debut during the Wynwood Art District Gallery Walk on February 12th 2011 from 6:30 to 10:30 pm.
The first of its kind in Miami, an Open air market over 35,000 sq. ft. full of various vendors, artists and performers. Wynwood Market will be hosted on every second Saturday of every month during the Wynwood Art District Gallery Walk.
Wynwood Market is an open-air venue that will bring together local artists, fashion and accessory designers, vintage outlets, craftsman, musicians, etc. to create a vibrant and interesting bazaar. It will be the first of its kind, an open air market similar to Portobello in London and SoHo in NY. Expecting a crowd over 3000 people with over 30 vendors ranging from artists of Art Center of South Florida, Art Institute of Miami, local and international artists to food vendors. Live music with guest Dj appearances are scheduled, as well as a fashion show. Wynwood Market is conveniently located down the main row of popular galleries on 22nd and NW 2nd Ave.
"Finally, a market that caters to street art and the needs of the locals."
The Market will also contribute to the community at every event with charitable contributions and exposure.
Entrance is Free to the public.
You can email us at:wynwoodmarket@gmail.com
Dream Door Design is a Miami based company operated by Roman Fournie and Natalia Bidnenko. In production for over 3 years, we provide event planning on a grand scale. We will host the Wynwood Market in collaboration with Lombardi properties.