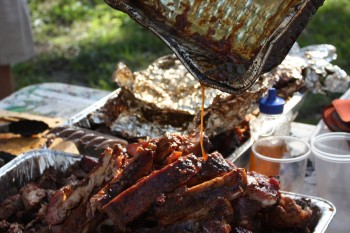 Creativity Driven by Southern Hospitality
april 9, 2011, 6 – 11
Project Space Gallery
2200 nw 2nd ave.
miami, fl, 33127
www.seansmithart.com
M.F.A. Thesis, Sean Smith, University of Miami. "Creativity Driven by Southern Hospitality" is an Artistic Barbecue Happening which Sean Smith creates a Southern Barbecue Event with slow smoking sculptures, painting, and audience participation.
The Department of Art and Art History, in the College of Arts and Sciences at UM presents the Master of Fine Arts exhibition by Sean Smith on view beginning April 9th, 2011. Focusing on stimulating all five senses, Creativity Driven by Southern Hospitality, is Sean Smith's attempt to create Gesamtkunstwerk (Total Art). Smith agrees with a Richard Wagner essay titled, "The Artwork of the Future," where he mentions the combination of the arts through theater. He describes that this is the clearest and most profound way to present folklore or cultural identity.
By exploring the creative process through performance, functional sculptures, contemporary abstract paintings, and postmodern ideas on art and its possibilities, Smith will entice and invite the viewer not only to enjoy his work as a spectator but also to participate in multiple creations displayed during his Southern Hospitable Artistic Happening. Creativity Driven by Southern Hospitality will be on view from April 9 to May 1, 2011 at UM's Wynwood Project Space – 2200A NW 2nd Avenue. There will be an opening reception for the artist on Saturday, April 9 at 6pm. The Group Painting will begin at 7pm.