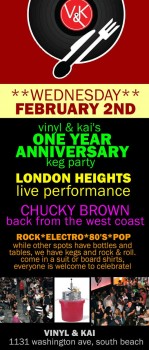 Vinyl & Kai's 1 Year Anniversary Keg Party!
Wednesday, February 2, 2011 at 9pm
Vinyl & Kai Gastropub & Rock Spot
1131 Washington Avenue
Miami Beach
305.531.2640
www.vinylkai.com
RSVP is required. Please RSVP to events@cm-publicrelations.com.
Vinyl & Kai Gastropub & Rock Spot is pleased to announce a special sequence of events
featuring five nights of culinary delights, creative cocktails and live music
to celebrate their one year anniversary.
Live music by: Hoosha, London Heights
Enjoy complimentary cocktails and beer from 9-11pm including ten kegs of domestic import and craft beer or opt for Vinyl & Kai's Red & Black Cosmos while watching rock & roll flicks such as Streets of Fire and Rock & Roll High School on their massive projection screens.
V&K will be introducing their VIP PICKS and giving guests the chance to be "picked" that evening, as well as debuting their highly anticipated newly created and designed menu (an actual gatefold record and vinyl drink menu).
For more information on V&K's 1 Year Anniversary five-night reverly, see the Facebook note.