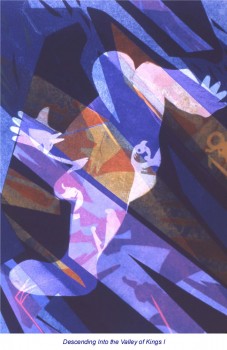 Opening Reception
Friday, February 11, 2011 from 6:30 pm-9:00 pm
University of Miami College of Arts and Sciences Gallery
1210 Stanford Drive
Coral Gables
The University of Miami's Department of Art & Art History and Africana Studies present "Atum Energy: Channeling Kemetic Metaphysics," an art exhibition celebrating Black History Month.
The show, curated by international art curator Ludlow Bailey, will run from February 1, 2011-February 28, 2011 at the University's College of Arts and Sciences Gallery, 1210 Stanford Drive in Coral Gables. The exhibition is free and open to the public. A special opening reception will be held on Friday, February 11, 2011 from 6:30 pm-9:00 pm.
The exhibition will include a series of lectures and will feature the works of African-American artists Robin Holder and Kerry Stuart Coppin, Haitian-American artists, Asser Saint-Val and Nzingah, Jamaican-American artist, Kristie Stephenson and Black British artist, Everton Wright.
Ludlow Bailey has curated shows in Europe, The Caribbean and the United States. He has lived in Egypt and has travelled extensively in Africa. He is a lifelong student of Egyptology & Metaphysics. He holds degrees from both Brown and Columbia Universities. He currently resides on the island of St. Thomas in the United States Virgin Islands.
Image Credit: Robin Holder
Descending into the Valley of the Kings I 23×30 Linoleum with inked handmade stencils monotype printed by hand on acid free archival 100% rag paper by the artist on an etching press