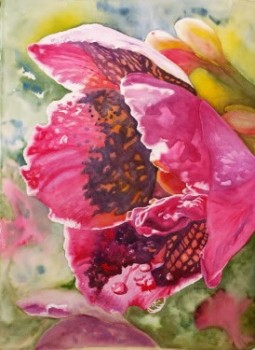 Miami Beach Botanical Garden Presents: Natural Beauty Through Watermedia
Opening reception: Tuesday, January 11 from 6 to 8PM
Miami Beach Botanical Garden
2000 Convention Center Drive
January 10 to 15
An exhibit of work by mixed media artists:
Sandi Levy
Terry Arroyo Mulrooney
Diane Lary
Members of the Miami Watercolor Society, their vibrant works depict natural beauty in painting with water. Exhibit hours daily from 9AM to 5PM
Artwork: Wet by Terry Arroyo Mulrooney
Sandi Levy is a mixed-media artist living in Aventura, Florida. She uses watercolor, acrylics, oils, enamels, inks, mediums, and 'found treasures' to create her palette, often combined in one painting! After teaching for 32 yearsin the New York City School system, she returned to Miami in 1999 with renewed enthusiasm for colors and subjects of nature: flowers, landscapes, animals, and seascapes.
A native of Michigan, Diane Lary has made her home in the Florida Redlands. Known as the Outpost Artist she found true happiness living amongst the natural beauty of her 'Jungle Outpost.' Working in watercolor, she paints tropical scenes, especially foliage and landscapes with rustic charm. Diane participates in a number of open air art festivals every year.
Terry Arroyo Mulrooney is an accomplished fine art photographer and painter based in Miami. Born in Venezuela, her first passion was photography with its spatial and perspective characteristics and chiaroscuro, the use of light and dark shades to add contrast or volume to artworks. Terry translates the images from her camera lens into the soft, ethereal style that only watercolors offer.
Miami Watercolor Society: Founded in 1974, the Miami Watercolor Society (MWS) is a volunteer, non-profit organization with more than 130 members and a mission to teach and promote watercolor painting. The culturally diverse society informs and educates members and the public with workshops, exhibitions, demonstrations and publications.
Water Gardens
Lecture & Demonstration
Guest Speaker: David McLean
Saturday, January 15 at 10AM
Learn about aquatic plants and options for creating water gardens in small containers or ponds and fountains with lecture and demonstrations by David McLean, an authority on plant selection for South Florida's natural environment, native plants and creation of habitats.
Free & Open to the Public
For information: 305-673-7256 www.mbgarden.org.