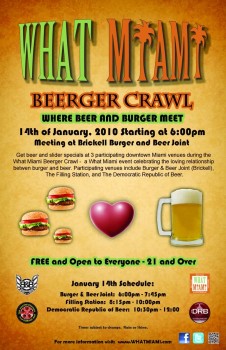 What Miami Beerger Crawl
Friday January 14, 2011, 6pm – 11:30pm
Brickell Burger & Beer Joint, The Filling Station, The Democratic Republic of Beer
900 S. Miami Ave. Ste 130
Miami, FL, 33130
Official Website.
Get ready for the What Miami Beerger Crawl – a FREE What Miami community event celebrating the longstanding and loving relationship between beer and burger on Friday, January 14, 2011 starting at 6:00pm.
Here at What Miami we have prepared an evening full of fun, drink and food specials, prizes, and neighborly interaction . Enjoy drink and burger (slider) specials at 3 downtown Miami / Brickell establishments as we crawl through the city. Spend the evening downing some delicious brews, munching on some specially made sliders from some of the best burger spots in downtown, playing trivia games with new friends, and riding the Metromover from place to place.
Participating venues include Brickell's Burger & Beer Joint, The Filling Station, and The Democratic Republic of Beer. Each venue will be providing unique specials and special burger concoctions, only for What Miami Beergur Crawl participants.
Look at the schedule below and join us anywhere along the way – just be sure to get a Beergur Crawl wristband from someone when you arrive!
Schedule and Specials (times are approximate):
6:00pm – 7:45pm: Burger & Beer Joint – $4 draft beers (excludes Chimay) and $5 Jameson shots. All Beef Slider specials.
8:15pm – 10:00pm: The Filling Station – $3 Pints of Magic Hat on Draft and $2 Southern Tier IPA Bottle. $6 for 3 sliders (cheddar cheese pulled pork and cheddar grilled onion burger)
10:30pm – 12:00pm: Democratic Republic of Beer – $3.50 on 5 Bottled Beers and 1 Draft Beer. $6 for 3 sliders.
Please keep in mind that times are subject to change. Stay tuned to What Miami for updates! You can follow the Beerger Crawl live during the event through Twitter and Facebook. Event is rain or shine. See you there!