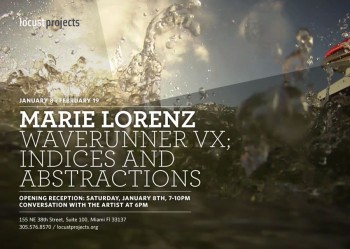 Marie Lorenz
Waverunner XV; Indices and Abstractions
Opening reception: Saturday, January 8, 2011, 7-10pm
Conversation with the artist, 6pm
Locust Projects
155 NE 38th Street, Suite 100
Miami, Fl 33137
Through February 19
Locust Projects is pleased to present Waverunner XV; Indices and Abstractions, an exhibition by New York-based artist Marie Lorenz. Conceived specifically for Miami, the exhibition is a continuation of the artist's ongoing exploration of urban waterways and narratives. Through video, sculpture and large-scale works on paper, Lorenz examines and abstracts familiar places, objects, and actions.
For the first time, Lorenz is experimenting with a jet ski – a contemporary mode of transportation and sport. The artist has built a floating ramp, modeled after an ocean wave, which was taken out to Biscayne Bay. There, Lorenz filmed the interaction of the jet ski and ramp, which simultaneously become subject and object. The resulting video explores moments of floating and unexpected discovery and will be on view at the gallery alongside the ramp.
Lorenz will also present a series of black and white prints. The first, a vinyl diagram of the jet ski's pump (the jet that propels the machine through the water), takes form on Locust Projects' window façade and provides a kind of floating explanation of the forces at work inside the machine.
On display inside the space are handmade works on paper created using a method employed by Japanese anglers to precisely record their prize catches. To create these works, the artist has painted sumi ink onto the surface of the jet ski, and then pressed rice paper onto its handle bars, hoses, cables and decals, recording the man-made object in the style of a Japanese fish print.
By indexing select aspects, perspectives and features of the jet ski and the jump, the artist has abstracted the object, and transformed its representations into illustrations of her own personal exploration.
Marie Lorenz was born in Twenty-nine Palms, CA, in 1973 and currently resides in Brooklyn, NY. She received her MFA in sculpture from Yale University, New Haven, CT, in 2002. She has participated in the Rome Prize Fellowship, American Academy in Rome, Italy (2008); and residencies at the Skowhegan School of Painting and Sculpture, ME (2004); Salzburg International Summer Academy, Public Interventions Seminar, Austria (2002); and The Arques School of Traditional Boatbuilding, Sausalito, CA (1997). Recent solo projects include Upriver, performance for the Hessel Museum of Art, Bard College, NY (2010); Shipwrecks, Jack Hanley Gallery, NY (2010); and The Inner Sea, a web-log that documents exploration of waterways around Rome, ITALY. In her ongoing project, Tide and Current Taxi (2005-2008), the artist acts as a guide for participants wishing to visit sites in areas surrounding New York City that are accessible only by water. After each voyage, Lorenz provides a detailed account of the journey in her Web journal, www.tideandcurrenttaxi.org.