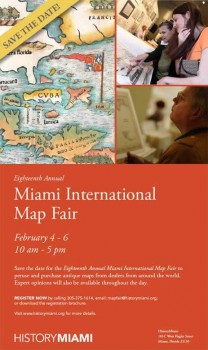 Eighteenth Annual Map Fair
Saturday, February 5 and Sunday, February 6, 10 am to 5 pm
HistoryMiami
101C West Flagler Street
Downtown Miami
Daily Admission
HistoryMiami Members: $5 Non-Members: $10
Tickets may be purchased at the door.
Peruse and purchase antique maps from some of the finest map dealers in the world. Learn about maps through a series of lectures by experts in the field and enjoy special events held throughout the weekend.
Proceeds from Map Fair go toward maintaining and improving the exhibitions, educational programming and community outreach.
To register please call 305-375-5792 or email Mapfair@historymiami.org or visit http://hmsf.org/programs-mapFair.htm
The Miami International Map Fair returns to HistoryMiami, Saturday, February 5 and Sunday, February 6, 2011 for its eighteenth year and among its many wonderful maps it will carry the earliest printed maps of Florida and Cuba.
Miami, one of only three cities in the world – along with London and Paris, is the only one in the western hemisphere to host a map fair. Held over two days, the fair provides the serious collector or casual buyer a weekend of browsing and buying antique maps and rare books. Visitors are also encouraged to bring in a map of their own collections for expert opinions and attend the lectures.
Among this year's lecturers is the New York Times bestselling author of Longitude, Dava Sobel. Other lectures will include "Envisioning History with GIS" by Anne K. Knowles, Ph.D., Associate Professor of Geography at Middlebury College and James Ackerman, Ph.D., Director of the Hermon Dunlap Smith Center for the History of Cartography at the Newberry Library who will discuss, "In the Rearview Mirror: An Appreciation of Twentieth-Century Roadmaps."
Weekend participant registration of $75 includes lectures, lunch, and Saturday evening cocktail reception. Daily admission to the fair is $10 for adults and $5 for children 6 – 12.
Title sponsor of the Miami International Map Fair is BrandsMart U.S.A. Other sponsors include, Martayan Lan, The Family Vending Company, Barry Lawrence Ruderman Antique Maps & The Old Print Shop, Cohen & Taliaferro LLC/Richard B. Arkway Ltd. & WorldView Antique Maps, and the Miami-Dade County Department of Cultural Affairs.