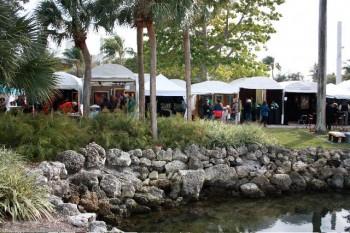 Beaux Arts Festival of Art Celebrates 60th Anniversary
Saturday and Sunday Jan 8 – 9, 2011. 10:00 a.m. to 5:00 p.m.
Grounds of the Lowe Art Museum
1301 Stanford Dr., on the University of Miami Campus
Admission and Parking: FREE
www.beauxartsmiami.org
Miami's Oldest Juried Fine Arts Show Offers Art for A Variety of Budgets, Children's Art Experiences, Food and Entertainment for the Entire Family
January 8 – 9, 2011
Browse the works of more than 240 fine artists this weekend at Miami's oldest juried fine arts show.
Recognized as one of the top-rated outdoor exhibits of museum-quality fine art, the 60th annual Beaux Arts Festival of Art offers works in 10 mediums for a variety of budgets. This year, artists hail from 30 states plus Canada and Israel.
Proceeds benefit the Lowe Art Museum, which will be open to the public for free all weekend.
In honor of the 60th anniversary, the festival will launch a children's coloring book called "Color the Lowe Art Museum," featuring important works from the Lowe's world collections.
Sponsors for the 60th anniversary festival include Mercedes-Benz of Coral Gables and Mercedes-Benz of Cutler Bay, Holtz Children's Hospital, Lowell International Realty, Tony and Sandy Tamer, Bank of New York Mellon, Sabadell United Bank, the Meade Family Foundation and the Miami-Dade Department of Cultural Affairs.
About Beaux Arts
Founded in 1952, Beaux Arts is a volunteer group comprised of 100 women dedicated to promoting and funding the Lowe Art Museum at the University of Miami. All funds raised help the Lowe expand its collection and provide programming – including bringing 500 Miami-Dade students to the museum on field trips each year. For more, visit http://www.beauxartsmiami.org/events/festival.html or follow us on Facebook.
For more information about local openings and events, please visit www.miamiartguide.com