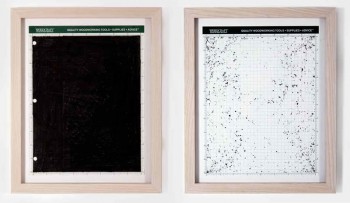 Opening 01. 07. 2011
Bhakti Baxter, Daniel Milewski, and Marcos Valella
Gallery Diet
174 NW 23 Street, Miami, Florida 33127.
Join us on Friday, January 7th, 2011 from 6 – 8 PM for a preview of the exhibition.
Bhakti Baxter b. 1979 Miami, Florida. Bhakti will present a series of never before exhibited sculptural works. Through a gestural practice Bhakti is exploring design, form, and abstraction. This will be his first exhibition with Gallery Diet though he has exhibited widely both locally (including a solo exhibition at The Museum of Contemporary Art) and Internationally including his most recent solo exhibition at Federica Schiavo Gallery in Rome, Italy.
Daniel Milewski b. 1978 Auburn, Massachusettes. Daniel will present a body of new work including photography, video, and drawing. Through repetition there is an exploration of form and content. He has exhibited in a solo exhibition at Gallery Diet, where he is represented, and most recently at Dimensions Variable in the Design District.
Marcos Valella b. 1981 Miami, Florida. Marcos will present a series of recent paintings in the gallery projects room. The paintings in this exhibition continue an exploration of contemporary and modern tendencies in the reading of painting through abstraction. This will be Marcos's first time exhibiting with Gallery Diet, he has recently exhibited at the Miami Art Museum and will be participating in the Bass Museum's Berlin residency this coming Spring.
The gallery will remain open for the Wynwood Second Saturday walk on Saturday, January 8th, 2011 until 9 PM. The exhibition runs thru February 5th, 2011 with viewing hours Tuesday thru Saturday 11 a.m. – 5 p.m. and by appointment.
Gallery Diet is a contemporary art gallery located in the Wynwood District of Miami, Florida where it has existed since 2007. The gallery has produced over 25 solo and group exhibitions by new and emerging artists from around the world and has documented those exhibitions in hard cover print on a yearly basis. Represented artists include Charley Friedman, Christy Gast, Richard Höglund, Abby Manock, and Daniel Milewski.
Daniel Milewski, Bleed 2010 Ballpoint pen and graphite on notepad paper 10″ x 13″ (each)