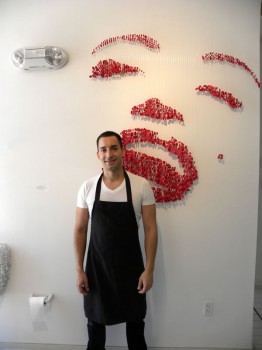 Reception at CANDO Arts Co-Op
Friday, January 14 at 6pm
309 23RD Street
Miami Beach, FL 33139
Candoartscoop.com
BUTTONS UP, a solo exhibit of sculptures by artist Augusto Esquivel, opens Friday, January 14 at 6pm with a reception at CANDO ARTS CO-OP.
The show features more than fourteen 2 and 3-dimensional sculptures made from thousands of sewing buttons, a body of work that took two years to create.
Sculptures of objects, such as Augusto's yellow fire hydrant, are constructed by suspending hundreds of buttons from strands of fishing line; the buttons are precisely aligned to create life-size replicas.
Esquivel also gives shape to portraits. The image of Audrey Hepburn is captured in buttons and beads that span across a wall at 104 inches; Red buttons create the face of Marilyn Monroe, mole and all.
The show includes the button portraits of James Dean and Bjork, a life-size upright piano button sculpture, a ball of buttons 32 inches in diameter and a true-to-life-size button toilet!
The unique technique was developed by the artist, who paints the buttons, cuts and drills through acrylic panels and deciphers the exact position of every single button.
A native of Argentina, Augusto Esquivel lives in Miami Beach and is a resident artist of CANDO Arts Co-op.
BUTTONS UP runs through February 6, 2011. CANDO Arts Co-op is located at 309 23rd Street, one block west of Collins Ave, Miami Beach. For more information, contact Augusto Esquivel at 754 423 3437 or CANDO Arts Co-op 305 672 3336.