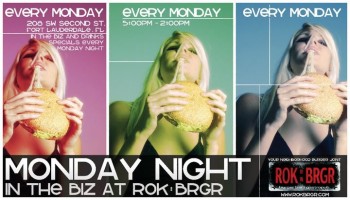 Local Mondays At Rok Brgr Gastro Pub
January 3, 2011, 5pm
ROK BRGR
208 SW 2ND Street
Fort Lauderdale, FL 33301
Welcome To Monday Nights At Rok Brgr!
Fort Lauderdale's Newest Gastro~Pub On Himarshee With Serious Personality.
Hosted By Kimberlee & Erin Mia ♥ Brad & Desiree
Happy Hour Starts At 5pm With Lip~ Smackin' Juicy Drink Specials From Expert Mixologists & Hot~ Diggity Deals On Some Rockin' New Carnivorous Combinations For The Serious Burger Lover In You.
Check Out The Game, The Fight, The Awards…
(( Whatever You Fancy )) On Flat Screens Behind The Over-Stocked Premium Bar ~ We've Got Some Of The B-E-S-T Bartending Talent In Town.
Grab An Al Fresco Bistro Table For Unbeatable People Watching Pleasure
(Not A Bad Place To Meet A New Friend Either).
Rock~Out To Our Killer Dj 'Till 2am.
Plenty Of Parking ….Street/Lot
In The Biz ?? We Got U. (( Just Ask ))
See You There !!
An Event Brought To You By: Haute In The City Events & Promotions
Kimberlee Etheridge
Kimberlee007@gmail.com
Tweets by KimberleeINVIP
Erin Mia Milchman
ErinMiaMilchman@gmail.com
http://Twitter.com/ErinMiaPrtyDiva
Follow Us On Twitter:
http://Twitter.com/HauteinMiami
www.HauteintheCityMiami.com
www.HauteintheCityFortLauderdale.com