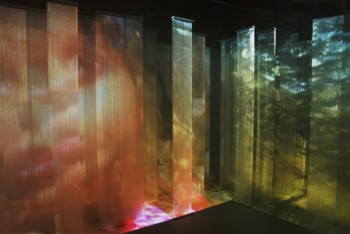 Artist Talk with Teresa Diehl
January 8 2011, 6pm
Praxis International Art Gallery
2219 NW 2nd Avenue
Miami FL 33127
www.praxis-art.com
Praxis International Art invites you to an Artist Talk with Teresa Diehl on Saturday, January 8, 2011 at 6pm at the Wynwood gallery.
Teresa Diehl is presenting her video installation work, Maneem (Dream). Diehl's work was recently added to the permanent collection of the 21c Museum in Lousville, Kentucky. In addition, she will be presenting her work in the exhibition "MariaMaria 1511/2011" from Februrary – June 2011 at the Muzeum Montanelli in Prague.
Teresa Diehl
Mannem (Dream), 2010
3 single channel projected on crochet monofilament
…In a dream, everything slows down; the mind goes in an out between bits and pieces of the past, at the end all is woven in a tapestry of light…
"Maneem" is an immersive three single channel video installation, dealing with reconstructed memories of childhood.
Viewers are invited to walk trough the maze and wonder inside.
Like Dream catchers, the screens are woven webs that only let good dreams filter through…
bad ones stay in the net disappearing with the light of the day and good ones pass trough getting embedded in the subconscious.
The clarity of the images and experience of the work depends on the viewer's position and his /her relationship to the space,
from where she /he stands the images could be clear and recognizable, like a familiar story line; interrupted and repeated,
or like visual echoes, some kind of dejavu; and finally just suspended colors creating an ephemeral experience.
I am fascinated as how to create a physical space that recreates the labyrinth of the mind.