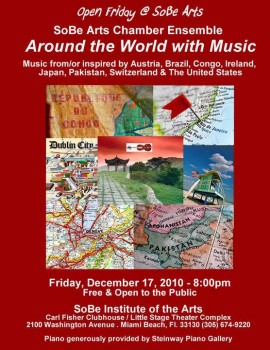 Friday, December 17 · 8:00pm – 10:00pm
SoBe Institute of the Arts
2100 Washington Avenue
Miami Beach, FL
sobearts.org
Special Opening Event Of Sobe Arts New Performance Season, including Premieres of music by Robert Chumbley and Carson Kievman as well as music by Villa-Lobos, Beethoven, Haazan and more.
Music From/Or Inspired By Austria, Brazil, Congo, Ireland, Japan, Pakistan, Switzerland And The United States.
Sobe Arts Chamber Ensemble: Taichi Akutsu, Violin** – Daisuke Yamamoto, Violin – Yael Kleinman, Viola – Tara Santiago, Cello – Adam Che…Ftiz, Piano – Mark Schubert, Percussion – Robert Chumbley, Conductor (** Farewell to Taichi – his final Open Friday concert before returning to Japan)
Program:
"Drunken Sailor" – Anon Irish Traditional
"An Odyssey of Reminiscence" (miami premiere) – Robert Chumbley
"Missa Luba" ("Kyrie" & "Sanctus") – Guido Haazan
"Geneva On Tuesday/Geneva Goes East" (concert premiere) – C. Kievman
"Heer Ranja Protostringnody" (world premiere) – Carson Kievman
"Bachinanas Brazileriras No. 5" – Hector Villa-Lobos
"Sonata No. 9 in A Major" (first movement) – Ludwig van Beethoven
Please join us for a reception following concert
Free & Open To The Public
Concert Grand Piano generously provided by Steinway Piano Gallery
**Parking** – This Open Friday @ SoBe Arts concert has Free Parking!
Enter parking lot off Washington Avenue between the Miami Beach Convention Center and 21st Street Recreation Center.