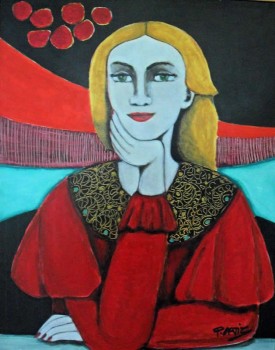 Join us for a Champagne Reception to celebrate the opening of About Face: Contemporary Portraiture featuring the work of MANO & Pedro Ortiz
7:00 pm – 10:00 pm
Saturday, December 18
MANO Fine Art
Studio/Project Space
in the Bird Road Art District
4225 SW 75 Avenue, 2nd Flr
Miami, FL 33155
About Face: Contemporary Portraiture
Is a portrait all that it appears to be? Portraiture is the interpretation of an individual's likeness and personality, whether in a painting or other medium. It's origins may seem simple and almost poetic, but contemporary portraiture is decidedly a more complex negotiation between identity and representation of the subject as well as the artist.
About Face is an exhibition featuring the work of Pedro Ortiz and MANO, both navigating the fringes of subjectivity and contemporary portraiture. For many artists the portrayal of an individual continues to be one of the most attractive and intricate subjects. Both Pedro Ortiz and MANO are well known for their depiction of faces primarily that of women. Ortiz's work possesses an extraordinary sensitivity and simplicity of the genre. His works capture his great love for his homeland of Cuba and often appear as romantic narratives. MANO revels in reinvigorating contemporary portraiture through his use of mixed media.The works presented in About Face are as varied and complex as the personages represented.
The exhibit, About Face will be on view through January 15, 2011. For more information please contact 305.467.6819.