Naila New Luxury Swimwear Line To Hit Miami Stores In December 2010
The collection is for the first time hitting USA stores starting with Miami newly chic opened
"Follow The Sun"
Miracle Marketplace, 3301 SW 22nd street, Coral Gables
Naïla is a new high-end swimwear line just launched last July 2010 at the Miami Swim Fashion Week. The men collection was presented at the Raleigh hotel and the full collection at the Swim Show.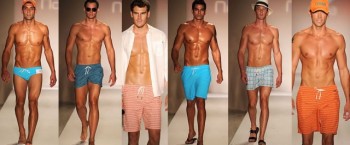 Based in New York, the women collection is made with high-end Italian Lycra with UV protection, extra comfort, and chlorine resistance features for extra life. The collection is chic with Mediterranean looks. Charming and elegant, the line sparkles with harmony of solid bright colors and vibrant wild prints. From fully lined comfortable triangle, to laser cuts one piece, architectural monokinis, the collection targets a well educated and traveled women looking for quality, cuts and dazzling looks.
The men trunk short collection is made out of recycled eco friendly polyester produced with plastic bottles. The men line redefines luxury eco chic designs with European classic cuts and customized colorful stripes. Sport chic combining casual elegance with impeccable taste and quality, the collection offers two lengths options 8'' inseam and 3'' inseam, along with Italian lycra briefs and culottes. The collection also has the option to have boy's shorts from 6 years old to 14 years old customized to match any of daddy's eco chic shorts.
You can visit the links for our men Fashion Show at IMG Fashion week Miami in July:
miami.mbfashionweek.com/miami/11/designers/naila/index.html
www.youtube.com/watch?v=28leNWEK3Ds
The designer behind the line, Naïla Chbib, is Franco-Swiss and has studied at prestigious Parsons School in NYC. Enhanced by her academic experience as well as her investment with fashion industry leaders, Naïla did many internship in well known fashion house from Donna Karen, Allesandro'Dell Aqua and Liz Claiborne. Her creativity and love for the sea lead to create her own line launched in Miami last July 2010.