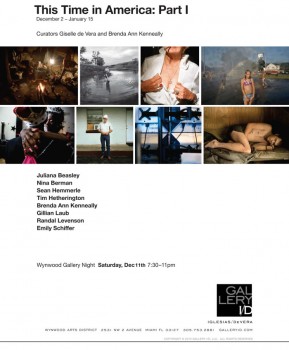 This Time in America: Part I
Wynwood Gallery Night Saturday, Dec 11th 7:30–11pm
2531 NW 2nd Ave
Miami, FL 33127
Curators Giselle DeVera and Brenda Ann Kenneally
Juliana Beasley
Nina Berman
Sean Hemmerle
Tim Hetherington
Brenda Ann Kenneally
Gillian Laub
Randal Levenson
Emily Schiffer
December 2 – January 15
Gallery I/D is pleased to announce its upcoming exhibition, This Time in America: Part 1. The two-part series, co-curated by renowned photographer Brenda Ann Kenneally, highlights photographers who have turned their lenses on America. Part 1, which runs concurrently with Art Basel from December 2nd to January 15th, features award-winning photographers and photojournalists who captured diverse segments of American society. What they saw – a New York community of impoverished social outcasts, cowboys and urbanites, segregation alive and well in America, U.S. soldiers in slumber between wartime activities, the colorful frenzy of stock market charts and more – remind us not only of the unique nature of America, but of our fluctuating and transformative place in the civilized world.
Juliana Beasley's The Last Stop: Rockaway Park is a series of photos taken over a four-year period in an area of Queens, New York named Rockaway Park. The last stop on the subway's A train, Rockaway Park is home to lonely elderly people and folks on the verge of homelessness – a community living on the edge. Beasley has spent time with her subjects in the bars, diners and bedrooms of these troubled individuals. The effects of the proverbial hard life of confinement, years spent as barflies, and countless hours lived inside their heads are apparent in the lines on their faces, jagged teeth, and dire surroundings. Lapdancer, published in 2003, takes a look inside the world of professional nude dancing, which Beasley documented for eight years. Sete 10, her most recent photo essay is the product of a month long residency in the south of France. Beasley began her career as a printer for Annie Leibovitz. She was a nominee for the International Center for Photography Infinity Award and she was recently awarded an Aaron Siskind Fellowship Award.
Some photos in Nina Berman's Hedge look like abstract jumbles of casino slot machines or ornate Japanese food packages at first glance. They are actually graphs and charts from desktop screens at a New York investment firm. One photograph is shot from the rear of a fund manager's desk. You see a mirror-like image; four monitors that look like two. Dead center between them, a human eye peers out, a glaring reminder that there is no technology, no hedging, no losses or gains, without man himself. Berman is a documentary photographer with a primary interest in the American political and social landscape. She is the author of two monographs Purple Hearts – Back from Iraq and Homeland, both dealing with war and militarism. Berman's work has been recognized with awards in art and journalism by the New York Foundation for the Arts, the World Press Photo Foundation and the Open Society Institute Documentary Fund. Her work has most recently been exhibited at the Whitney Museum of American Art 2010 Biennial and the 2010 Milano Triennale.
Photographer Sean Hemmerle, best known for his award-winning photos of post-industrial American wastelands, political hot-buttons like the U.S./Mexican border, and scenes from the 2002 sniper attacks in Washington, gives us Some Americans, his first foray into portrait photography. Hemmerle travels frequently for work and became curious about the power of the ordinary American. One photo, Cowboy, shows a well-dressed, pressed and confident-looking older cowboy type. He's wearing a gold watch, a gold ring on each hand, and a white hat. His boots are clean and brown. In one shirt pocket he has a pen, in the other a cell phone (or maybe a pack of cigarettes). He looks like the new cowboys should look: proud, self-assured and in dark denim. This photo and others in Some Americans call to the mind the American can-do spirit and our strong sense of selves, no matter what situation we are in. Sean Hemmerle is a New York based photographer who bought his first camera with his signing bonus from the U.S. Army in 1988. He has been widely exhibited in places like the Museum of Modern Art in New York, the Museum of Contemporary Photography in Chicago, the Houston Museum of Fine Art and the Pingyao Photography Festival in Pingyao, China among others. His photography has graced the covers and pages of many publications, including TIME, Metropolis, WIRED, New York Magazine, The New York Times, and the Columbia Journalism Review.
Documentary photographer Tim Hetherington's photos take us to the Korengal Valley in Afghanistan where he spent time documenting the lives, combat and non-combat, of U.S. soldiers. The photo essay Sleeping Soldiers shows military men during sleep, a far cry from their battleground activities. One young soldier, Dockelso, sports a clearly visible tattoo of the word "combat." His fetal position reminds you more of an infant than of a man trained in the art of war. Hetherington, a Vanity Fair contributor, spent 15 months in Afghanistan. His images, coupled with Sebastian Junger's writing, were the basis of the documentary Restrepo, which showed war as the brutal but human-fueled entity that it is. Infidel, a book based on the duo's experiences in Afghanistan, features Hetherington's photos and was released in October. The Liverpool-born Hetherington is the recipient of numerous awards including a Fellowship from the National Endowment for Science, Technology and the Arts, a Hasselblad Foundation grant, four World Press Photo prizes including the World Press Photo of the Year 2007, the Rory Peck Award for Features, and an Alfred I. duPont award.
Brenda Ann Kenneally has for many years brought to light the situation of poverty in America. Her latest installation which is part the Upstate Girls project, America: Love it or Else, features two multimedia pieces that play simultaneously. Each features images that Kenneally has captured during an eight-year period in Troy, New York. Troy, once an epicenter of industrialization, has fallen on hard times. And so have its residents, which is evident in the photographs and videos seen in the show. Part 1: I Love America, focuses on the inherent idealism of love of country that transcends the challenges of being an American. We see an annual celebration of the birthday of Uncle Sam, a folk character said to be based on a real-life resident of Troy. But this is America, and through Kenneally's lens we discover that the citizens of Troy may just need a celebration, whether Uncle Sam really existed or not. Part 2: I Love You shows us love as a day-to-day coping tool. For the women in the City of Troy, "…romance is the best medicine if only in small doses of unrealized fantasy." Many images in the video are of the female heads of household that make up much of Troy's population. We see them kissing their babies, kissing their baby-daddies, some kissing their girlfriends. As Kenneally puts it, "The feminization of poverty in America has been commercially legitimized and its emotional deficit filled at the Dollar Store." Judging from these photographs, you cannot help but agree with Kenneally. Brenda Ann Kenneally is a documentarian and interdisciplinary artist living in Brooklyn. Her long-term projects are intimate portraits of social issues that intersect where the personal is political. Her book and web publication MONEY, POWER, RESPECT; Pictures of My Neighborhood received numerous awards: The W. Eugene Smith Award for Humanistic Photography, a Soros Criminal Justice Fellowship and The Mother Jones Award. In 2004, Kenneally began photographing in Upstate New York, where she was born. The ongoing project, Upstate Girls is a look at the lower working class America that, despite sweeping technological advances, remains unchanged since Kenneally herself was a child there. Brenda Ann Kenneally is the co-curator of Gallery I/D's This Time in America.
Gillian Laub's photo essay, Southern Rites, takes us to prom night in Georgia. There's a "tradition" in certain Georgia high schools that dictates that there be segregated proms – one for white students, one for black students. For years the students have protested about the separate affairs, but their complaints were no match for the residual customs of the past. During the school year the graduates attend classes together, play on the same sports teams, and date each other. One image shows a sullen prom queen – the black prom queen. She wears a pink gown and a crown. Across her torso is a homemade-looking sash denoting her title. Her cell phone rests on her lap. We never see the white prom queen; Laub wasn't allowed inside. The 2010 prom, held this past May, was the first-ever integrated prom at Montgomery County High School. Gillian Laub graduated from the University of Wisconsin-Madison with a degree in comparative literature before studying photography at the International Center of Photography, New York. She was selected for the World Press Photo's Joop Swart Masterclass in 2003 and was the winner of Nikon's Storyteller Award for her work in the Middle East. With the support of the Jerome Foundation, Laub's first monograph, Testimony, was published by Aperture in 2007 to critical acclaim.
Photographer Randal Levenson focused his lens on the people and places of Tennessee in American Tennessee Valley. Levenson's photographs show rugged and unapologetic Americans in remote work sites, smoking cigarettes down to the filter, shooting squirrels, and living in dwellings most of us would consider unfit for human habitation. One look at George, with his indoor fire pit, companion dogs and strewn-about garbage makes you wonder if this is the America our forefathers envisioned. But it's America today, like it or not. Levenson has been exhibited in many galleries and museums in the United States and Canada. A book of his work, done while following carnivals and sideshows, In Search of the Monkey Girl, was published by Aperture in 1982, with a text by Spalding Gray. A master printer, he has worked with artists such as Richard Avedon, Josef Karsh, and Robert Frank. Randal has taught photography at the University of Ottawa in Canada and has lectured widely, most recently at his alma mater, Brown University.
The black and white photos in Emily Schiffer's award-winning portfolio Youth on the Cheyenne River Reservation depict the ethereal notion of play. Children in the Cheyenne River Sioux Tribe were photographed hiding in gigantic rubber tires, jumping from tree limbs, practicing playground politics, and wading in ponds. They're textured photographs that when seen up close invite you to almost touch them. In Blanket, you want to feel for yourself if the woolen throw in which the little girl rests is of the itchy kind. In 2005 Schiffer founded a photography program for these kids. That sense of closeness is evident in the way that although not shot up close, the photos embody a oneness, an understanding of their subjects. Schiffer was the recipient of a 2006-2007 Fulbright Fellowship in Photography, the 2009 Inge Morath Award, presented by Magnum Photos, and the Inge Morath Foundation, and was the 2010 winner of the PDN Photo Annual Personal Project Category.
Gallery I/D's This Time in America: Part I opens on December 2nd and runs through January 15th, 2011. An opening reception will take place on Thursday, December 2nd. A closing reception will be held on Saturday, January 15th.