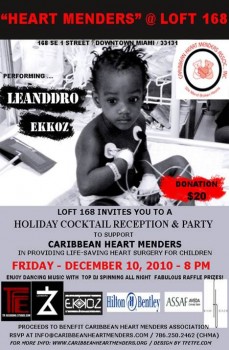 Loft 168 in Downtown Miami.
168 SE 1st Street
We have an open bar from 8-10p
raffles for 2 nights at the Fontainebleau Hotel, DoubleTree, and more.
Ticket Donations are $20 and raffle tickets 1 for $5 or 3 for $10.
Caribbean Heart Menders is a group of volunteers that perform miracles for children needing heart surgery in the Caribbean Islands and Central and South Americas. The last medical mission trip was to Panama in August of 2010. This event is a major fundraiser for the organization.
There will be complimentary cocktails, raffle prizes, Leanddro Ekkoz, and a DJ spinning all night!
A $20 donation will be accepted at the door. If you cannot attend the event, please consider making a donation. We accept all donations no matter how large or small! Every little bit helps!
There will be raffles from Fontainebleau Hotel, DoubleTree, and more!
www.caribbeanheartmenders.org