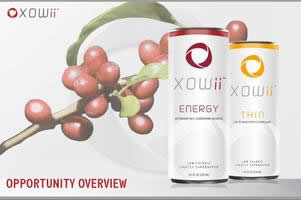 A TASTING EVENT- Introducing Xowii THIN Beverage & Energy Drink
Thursday, December 16, 2010 at 7:00 PM
Avenue 29
19004 N.E. 29th Ave.
Aventura, FL 33180
Can you attend this event? Respond Here
www.xowii.com
Start your New Year Resolution early! Turn Heads This Holiday! Join the NEW YOU CHALLENGE!
On Thursday, December 16th, XOWII THIN BEVERAGE will be introduced to the masses in Aventura's Avenue 29 19004 NE 29th Ave.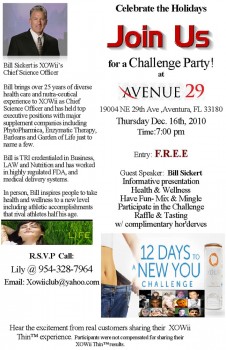 Guest Speaker: Bill Sickert
Bill Sickert is XOWii's Chief Science Officer
Bill brings over 25 years of diverse health care and nutra-ceutical experience to XOWii as Chief Science Officer and has held top executive positions with major supplement companies including PhytoPharmica, Enzymatic Therapy, Barleans and Garden of Life just toname a few. Bill is TRI credentialed in Business, LAW and Nutrition and has worked in highly regulated FDA, and medical delivery systems. In person, Bill inspires people to take health and wellness to a new level including athletic accomplishments that rival athletes half his age.
Come join us for tastings, prizes, and challenges. Guests will all have the opportunity to taste XOWII THIN Beverage, a lightly carbonated, 8.4 ounce all-natural weight management blend, served with complimentary hor'derves
XOWii Thin™ is a nutrient-dense, natural nourishment. Thin fuels your body's metabolism while suppressing your appetite, enhancing your mood and boosting your energy and delivering all the energy you want without the spikes and crashes of traditional beverages.
This event will have a blend of Mix and Mingle, while being Educational and Informative on health and wellness.
~Guest can participate in our The Biggest Loser THIN CHALLENGE and get a chance to win cash prize for the holiday~
Guests are FREE
Member $10.00
Raffle prizes: Enjoy 3 Days & 2 Nights Vacation Gift Certificate
6 cans of XOWii THIN
2 (2oz sample of Ultimate vitamins)
Have Fun. Mix and Mingle
Informative presentation on Health and Wellness
Participate in Xowii Thin Challenge and get a chance to win
cash prize for the holidays.
Great Prize -$5 Raffle
Tasting of Xowii Thin Beverage served with complimentary hor'derves
Bring Plenty of Biz Cards! Networking @ 7:00pm