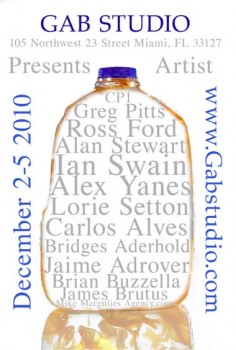 GAB Studio presents: Artist
During Art Basel weekend in Miami. December 2 – 5, 2010
12:00 p.m. – 12:00 a.m
GAB Studio
105 Northwest 23rd Street
Miami, FL 33127
www.gabstudio.com
marguliesagency.com
A Special Jazz Night on December 4th,7pm- 12am
featuring Shira with Double J and the Legendary DJ George
GAB Studio shows a collection of varied emerging artists who aspire to make our visitors understand the relationship between an artist and his or her medium. The group consists of painters, photographers, mixed media and graffiti writers. GAB Studio will draw your attention on an international level.
Our artists will present some of the finest work you will see outside of the Convention Center. The gallery will have its eccentric group of artists on hand to take the time to talk to visitors and show their thought processes behind their art and their medium. Some of the artists will be painting live murals throughout the city and will let you come and watch the process of art while it is happening.
The artists participating in our show will be: Alex Yanes (painter), Ross Ford (painter), Bridges Aderhold (photographer), Greg Pitts (painter), Alan Stewart (mixed media), Carlos Alves (mixed media), Jaime Adrover (painter), Lorie Setton (painter), Cp1 (graffiti), Brian Buzzella (painter), James Brutus (painter), and Ian Swain (painter).
Expect eye-catching visual artwork on the outside of the building. GAB Studio has graffiti murals that have been painted by local graffiti writers and will have 30 ft. tall balls of joy.
We look forward to hosting visitors to our great city and art lovers from around the world.
GAB Studio will be open from December 2 – 5, 2010 during Art Basel weekend from 12:00 p.m. – 12:00 a.m. If you would like more info you can visit www.gabstudio.com
For more information about local openings and events, please visit www.miamiartguide.com