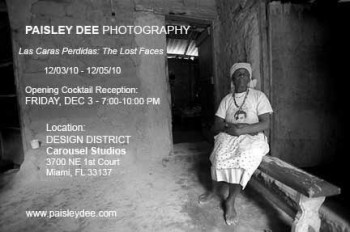 Las Caras Perdidas: The Lost Faces Art Basel Miami:
December 3 – 4, 2010, 7:00 pm -1:00 a.m.
Carousel Studios
3700 NE 1st Court
Miami, FL 33137
www.paisleydee.com
Paisley Dee is a photographer out of Miami, FL. She is having a solo-show during Art Basel exhibiting her work "Las Caras Perdidas: The Lost Faces" , which features images of the indigenous and local people from her travels throughout South America.
At the same location, local designer Hassan Pierre with WISB* is having a Pop-Up Shop featuring his all organic and sustainable eco-friendly line of luxurious women's ready to wear clothing.