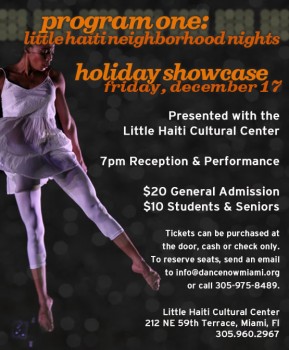 Little Haiti Cultural Center
212 NE 59th Terrace
Miami, FL
Friday, December 17 · 7:00pm – 10:00pm
Join Dance Now! Ensemble & the Little Haiti Cultural Center
Little Haiti Neighborhood Nights Holiday Showcase
7:00pm – Reception & Performance
$20 General Admission $10 Students
*Live dance performances choreographed by Dance Now! Ensemble
Call 305.975.8489 or 305.960.2967 for more information
Dance Now! Celebrates The Holidays With
Its Season Opener At The Little Haiti Cultural Center
Dance Now! kicks off its 2010/11 season with three premieres and knock-your-socks-off dancing
Dance Now launches its 11th season December 17, 2010 in the state-of-the art, audience-friendly theater at its new home in the Little Haiti Cultural Center, Miami. The evening features three premieres and showcases an interna-tionally trained company of artists from Brazil, Jamaica, and Cuba as well as the U.S.—and co-artistic directors Hannah Baumgarten and Diego Salterini welcome back to the company the remarkable area performer and chore-ographer, Colleen Farnum.
To be seen for the first time is a work collaboratively created by Baumgarten and Salterini. "Crossroads," says Baumgarten, "gets deep down into the rhythm and sound of jazz music ranging from Miles Davis to Igor Boxx (a cutting edge Polish composer). Crossroads, while flowing from Salterini's rich and varied international jazz dance background, results here in a new work of subtle sophistication —but no shortage of heat.
Salterini notes with pride that "…this jazz style needs the right movers… and we certainly have them this year!! Expect some dancing that knocks your socks off!"
From Baumgarten, the concert includes a premiere entitled Memos from the Last Millennium, choreographed to the unusual sounds of the Brazilian experimental instrument group Uakti who have created scores for dance com-panies such as Brazil's Groupo Corpo. The work explores unanticipated transformations in a colonial community as it encounters new realities. "I don't think Hannah means the story literally" says Salterini, but rather as a jour-ney that could occur in any time or place, when people step out of their comfort zone."
Also on the program is Salterini's Drawing Circles, the revival of an ensemble piece to Philip Glass' score from the Japanese movie Mishima. The piece premiered in 2007 at the first of Miami Beach's now wildly popular Sleepless Nights. It was entitled Blue as part of a larger work, Secondary Colors, in DNE's home season at the Colony Theater that same year.
Drawing Circles celebrates the aesthetics of the Miami Modern (MiMo) movement and Salterini's choreography shines a new light on the shapes and relationships of this remarkable architecture —now virtually synonymous in people's minds, with Miami Beach.
Audiences will also get to see Pulverized Habitat, a favorite from last season. This driving contemporary pas de deux choreographed by Baumgarten, is danced en pointe to the music of Radiohead. New this season is the per-formance of the first movement of the dance, "the passion section," as Baumgarten calls it, "that is to say, what happens BEFORE the 'pulverization' happens."
This evening of dance will give audiences toe-tapping moments but also some serious things to think about!
Dance Now! Ensemble: In Residence at the Little Haiti Cultural Center.
In September 2009, Dance Now Ensemble was invited to become the Resident Dance Company at Miami's Little Haiti Cultural Center. "To have a dance home and at the same time to serve our community" says Salterini, "is a rare and wonderful opportunity. We are blessed to be teaching and performing in this amazing facility. Being at the Center helps us unify our creative and educational programs and we have already offered a season of special performances including a benefit for Haitian Earthquake Relief. Being part of this facility is an amazing gift."
Baumgarten adds: "Being at the Little Haiti Center helps to energize the facility, drawing attention to its gorgeous and generous spaces, filling them with music, movement—and sweating bodies. We are witnessing a growth in all arts activities at the Center and, because our work is so rooted in collaboration, we also see more collaboration among other arts groups in the area."
In addition the Company—and the Center—now have the opportunity to participate in the Miami Dade School system's "Cultural Passport," a program that Superintendent Alberto Carvalho established to expose each grade level to a new art form. For the seventh grade, the focus is Dance—and Dance Now expects to have some 5,000 Miami Dade Seventh-graders at the Haiti Center where the students will learn about the history of western dance, and they will be delighted and surprised to see how the music and movement of their own generation is linked to these dance styles.
The Residency also allows DNE to implement other of its plans, aspirations, and dreams—from a teen summer intensive to monthly master classes, to ongoing dance classes in ballet, modern, and jazz. "It's amazing to see all our years of experience coming together and put to good use" says Baumgarten, who spent ten years directing the dance program for Broward County's magnet high school for the arts, Dillard Center for the Arts.
To learn more: Contact Hannah Baumgarten via email at hannah@dancenowmiami.org, via telephone at 305-975-8489 or visit the company's website at www.dancenowmiami.org. Photos and interviews available upon request.
This program is presented with the support of the Miami-Dade County Department of Cultural Affairs and the Cultural Affairs Council, the Miami-Dade County Mayor and the Board of County Commissioners, the City of Miami Beach, Cultural Affairs Program, Cultural Arts Council, the City of Coral Gables, the Dade Community Foundation, the Samara Fund, The Funding Arts Network, the AT&T Foundation and the City of Miami Parks and Recreations Department. DNE is funded by The Children's Trust which is a dedicated source of revenue es-tablished by voter referendum to improve the lives of children and families in Miami-Dade County.