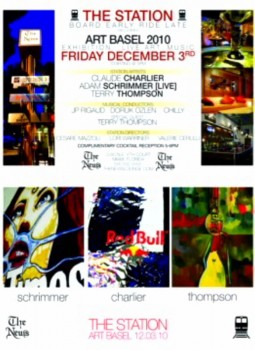 The Station at The News Lounge rt Exhibition
12/3/2010, 5pm-3am
The New Lounge
5580 NE 4th Court
Miami, FL 33137
www.the55thstreetstation.com
Exhibition, Live Art & Music
Complimentary cocktail reception 5pm to 6pm
No cover
Artists:
Claude Charlier
Adam Schrimmer
Terry Thompson
Music:
JP Rigaud
Doruk Ozlen
Chilly
SPECIAL GUEST
TERRY THOMPSON
Artaholics may have their ArtBasel Miami schedule planned out, but a comprehensive trip is not complete without a visit to The STATION at the News Lounge ArtBasel exhibition. Curator JP Rigaud assembled a fascinating group of mid-career artists that are reshaping the landscape of contemporary art. Adam Schrimmer will perform live paintings during the exhibition.
Claude Charlier is an artist born in Nancy, France. He knew at a very early age that photography and painting was going to be his life's passion, though his studies remained on the classical arts; music and fine art in particular. After the usual first jobs, including working as a photographer for the French Governement, he was asked to come and work at Paris Match after doing a scoop of a jail revolution. At that time, he also started to collaborate with Shuji Terayama, writer and director of the Tenjo Sajiki and Suzuki Tadashi director of the Waseda Shogekijo, then co-wrote and directed "Laurence de Paris". But soon, he realized that the theater world was not the perfect fit for him and he left Paris and London for Tokyo, and began a life that took him all over the world.
Apart from photography and painting, he also worked as an art director for 4 years creating international campaigns for majors Japanese companies, did a couple of morning shows for Japanese networks and helped in creating several magazines like Tokyo Journal, Vu and G magazine.
Claude has lived and worked in Japan, Europe, South East Asia and in the USA, where he currently resides. His work has appeared in of the world's major publications, and his client list includes an impressive list of the world's major corporations and publications. He has won back to back awards for best annual reports over a six year period, and received the Mercury Award for his work for Ricoh Company, Best advertising campaign for NEC twice, Best magazine add for Nikon Camera campaign, etc….
Several of his shows have been sponsored by Nikon, Pentax, and Ilford & Kodak. Claude Charlier is listed in both the "Dictionnaire des Photographes" and in the "Encyclopedie de la Photographie".His works has also been purchased by several museums, including the Louvre, and by private collectors.
Adam Schrimmer: "Schrimmer, self taught, but formally trained at the Ringling School of Art & Design, is no stranger to Miami's art scene. Adam has been submerged in its waves since 2003.Upon arriving, he joined the ranks of Diaspora Vibe Galleries' residents and moved into the Bakehouse Art Complex as a resident artist, serving on their Board of Directors as their Artist Representative. During this time, Schrimmer's work was commissioned by such Miami heavy weights as The Related Group, One Miami LLC, Adrienne Arsht Center, The Vagabond, Village Voice Media, Miami and Broward Palm Beach New Times and Harley Davidson. He has also taken part in several solo and group shows throughout the years at numerous national galleries and popular night spots like The Standard, The Vagabond, and Park West in Miami. Adam's work consists of mostly black and white, charcoal drawings on a variety of surfaces. He feels the direct friction between his hands and his material creates the energy that pulses out,
onto the canvas. A humble artist, he is a force to be reckoned with. His portraits empower people to feel aggressive, powerful and sexy; to reveal their true colors. His work shows its form in the most raw and seductive way possible.This will be Schrimmer's 4th Art Basel showing, his works collected both nationally and internationally."
Terry Thompson: Part Visual Artist, DJ, producer, and modern day renaissance man. As a producer, this veteran dj hit the big leagues with his international smash hit "Shine" on the Defected UK label. His track was featured as a New Essential Tune on Pete Tong's BBC Radio show in 2007. Also released during the WMC conference that same year and played by djs from all around the world. Terry is no stranger to Art Basel or Miami. He performed at various venues in South Beach over the last 5 years.
Terry is also a well-known visual artist. His second one-man exhibition, titled Party People (2007) in the Sub-Basement Art Gallery's 20,000 square-foot massive space in Baltimore rocked. The show featured an array of works linked by expressive and mystical relationships between transient and communal party people. For example, Touched the Sky is a large-scale painting named after the popular underground dance track released this year by Dennis Ferrer. Much like the lyrics of the song, the painting captured the colors, rhythms and synergy on dance floors in New York, Miami, London, and Ibiza. Thompson paints mini grid-like windows filled with hieroglyphics figures. In each painting he creates his own language that on the surface resembles musical notes. However, when you look at them closely there is more to the story than meets the eye.
Other works shown were Shine, Rej, Milk and 2 Sugars, Chinkara, and Sosue. Most of the works represented a chic blend of cultures, spirits, and passionate grooves from the underground dance scene.
Terry Thompson was born in Chicago, IL. He is a self-taught artist and was an artist-in-residence for 3 years at Baltimore's School 33 Art Center. Thompson has had various exhibitions including: Flash Art Museum, Trevi, Italy (1998), World Fine Art Gallery, New York, (1999), School 33 Art Center Bi-annual (1999, 2001) Maryland Art Place (2005), Artexpo 2005, New York (2005), Sub-basement Artist Gallery (2005,2007). He holds a Masters of Science in Administration from Central Michigan University.
JP Rigaud: For the last two decades this international dj has been rocking dance floors around the globe. The former resident of Nikki Beach for many years took his audience on a journey from chill-out, new jazz, broken beat to the sounds of deep, bossa, latin house and house.
Doruk Ozlen: DJ/Producer from Istanbul, Turkey. This multi-talented dj/producer is making big waves with his monster productions. His tracks are played all over the world. He is one of the most respected dj and producer on the scene today
Chilly: On the scene in Miami for many years, Chilly is without a doubt made a mark in dance music. "Just Chilly." Chilly has spun, at a host of venues in Miami including Forge and the now-defunct Pearl. His Dolce Entertainment company has hosted some of the best parties in the city.
Terry Thompson: CodeRed/Defected in the House. Enough said.