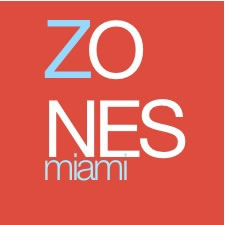 DUODECAD
Group Exhibition
Zones Art Fair
Edge Zones Art Center
47 NE 24th St.
Miami FL 33137
Preview: Wednesday, Dec. 1, 10-2 pm
Reception: Saturday, Dec. 4, 8 pm. – 10 pm.
www.zonesartfair.org
www.edgezones.org
Participating Artists
Rita Bard | David Leight | Rafael Lopez-Ramos | Charo Oquet | Raul Perdomo | Eduardo Sarmiento | Kari Snyder | Freddy Rodriguez| Brian Reedy | Angel Vapor | Pedro Vizcaino | Gretchen Wagoner
ZONES ART FAIR is curated by Miami-based artist Charo Oquet director of Edge Zones Miami a niche fair/event, including a food-tasting session, talks, cocktails, exhibition, video screenings, music, performance and publications. A strong local flavor runs through this fair.
The focus is on up-and-coming artists and making their works more accessible to the public. This year's edition also offers daily speed date sections with curators and artists presenting an inquiry into the potential capacities of artists under the title Fast Forward. The fair also features emerging Caribbean art, offering visitors a detour from the labyrinthine art-fair set-up. Expect anything from sculpture and painting to video and performance art from hot artists. The Fair's new location at 47 NE 25th Street, across from Aqua Wynwood. Attendees can talk concepts, meet, eat and hang out in our location.
Edge Zones is an artist and volunteer – run contemporary arts non-profit dedicated to the research, conceptualization and execution of events that strengthen the contemporary art environment in Miami. EZ seeks to making contemporary art accessible, engaging and to create a focal point for international research and awareness. Edge Zones is committed to assist local artists from diverse economic, social, and cultural backgrounds in their creative production and disseminating their professional development in national and international forums by establishing a strong regional exchange network connected to the rest of the world.