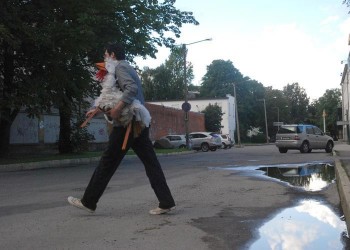 Saturday, November 27th 6 – 8 PM
174 NW 23 Street, Miami, Florida 33127.
Join us at Gallery Diet this coming Saturday for an opening reception for the artist, refreshments and sweets will be served!
On view through November 27th, 2010 – December 22th, 2010
Art Basel Miami Beach Hours: November 30th, 2010 – December 5th, 2010 9 a.m. – 7 p.m.
Inspired by the seemingly straight forward riddle about the fox, the chicken, and the bag of grain on the riverbank (where you need to transport everything to the other side but you can only take one item with you each time you cross and for obvious reasons you can't leave the chicken alone with the grain, the fox with the chicken, etc.) …the system of logic behind reasoning a solution opens the door to infinite possibilities for interpretation when history and persona are added to each variable. This exhibition will include new works of various media including sculpture, photography, and drawing.
Abby Manock received her MFA from Columbia University in 2007. Her drawings and sculpture have been included in select exhibitions in New York, London, Berlin, Los Angeles, Miami, the Museum of Fine Arts in Boston and most recently at MARTE Contemporáneo in San Salvador, El Salvador. Her large scale, interactive and game-like performative projects have been showcased by the Deitch Projects Art Parade in NYC in 2006, Performagia 2008 in Mexico City, the William Benton Museum of Art, Storrs, CT, as well as several major concert venues across the US. She has lectured at the Art Center of South Florida, Bowdoin College, and the University of Connecticut, and is an adjunct drawing professor at Columbia University. She lives and works in Brooklyn.
Lesser Evils will be Abby Manock's second solo exhibition at Gallery Diet where she is represented.
Gallery Diet is a contemporary art gallery located in the Wynwood District of Miami, Florida where it has existed since 2007. The gallery has produced over 25 solo and group exhibitions by new and emerging artists from around the world and has documented those exhibitions in hard cover print on a yearly basis. Represented artists include Charley Friedman, Christy Gast, Richard Höglund, Abby Manock, and Daniel Milewski.