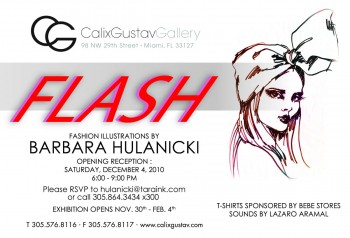 Calix Gustav Gallery & Barbara Hulanicki
To Unveil New Exhibit 'Flash' During Art Basel 2010
Wynwood Arts District, 98 NW 29th Street, Miami, FL
Opening reception: Saturday, December 4, 2010 from 6:30 p.m. to 9:00 p.m.Ongoing exhibition: Tuesday, November 30, 2010 – Friday, February 4, 2011Gallery visiting hours: Tuesday – Saturday, 12:00 p.m. – 5:00 p.m.
Cutting-edge Wynwood Arts District gallery to host first state-side exhibit by internationally acclaimed fashion illustrator
Calix Gustav Gallery is pleased to announce the unveiling of its newest exhibit FLASH by internationally acclaimed fashion illustrator Barbara Hulanicki during Art Basel 2010. In celebration of Hulanicki's first state-side exhibit, an opening reception will be held on Saturday, December 4, 2010 from 6:30 p.m. to 9:00 p.m. with complimentary cocktails by 42Below and music by DJ Lazaro Amaral, followed by an after party with a screening of Beyond BIBA: A Portrait of Barbara Hulanicki.
FLASH, a solo exhibit featuring a series of colorfully infused digital prints, is a reflection of Hulanicki's wild and free imagination. Inspired by experiences ranging from her early years into the new century, Hulanicki explores joy, mystery, magic, youth and mortality, while staying true to her signature style yet incorporating new and unexpected twists. With her background firmly rooted in visual arts, Hulanicki began her career in the early 1960's as a freelance fashion illustrator.
Having covered a number of important collections of the era in major London-based publications including Women's Wear Daily, British Vogue, The Times, The Observer and The Sunday Times, Hulanicki relocated from England to Miami in the late 1980's. In what would be a long, rich and varied career, Hulanicki reinvented herself as a designer of interiors and exteriors just in time for the boom of Miami Beach's re-emerging Art Deco District. Credited for her work in fashion and interior design that goes beyond the industries' norms, she has and continues to achieve her goal of producing art and design as alternatives to the expected for the enjoyment of both her clients and art enthusiasts alike.
FLASH will run from November 30, 2010 through February 4, 2011. Regular gallery visiting hours are from Tuesday to Saturday from 12:00 p.m. to 5:00 p.m. For more information visit www.calixgustav.com.