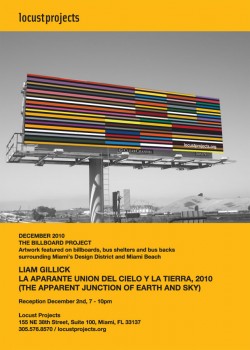 The Billboard Project
Liam Gillick
La Aparente Union Del Cielo Y La Tierra
(The Apparent Junction Of Earth And Sky)
Reception for the artist: December 2nd, 7-10pm
Locust Projects, 155 NE 38th Street #100, Miami FL 33137
Hours during Art Basel: Tuesday, November 30 – Saturday December 4, 9am-4pm
Locust Projects is pleased to announce Out of the Box, a new initiative that will increase exposure to contemporary art by sponsoring projects in public locations throughout Miami. The program will launch with the Billboard Project in December 2010, for which internationally renowned artist Liam Gillick has be commissioned to produce artwork for billboards and bus shelters surrounding Miami's Design District and Miami Beach.
Gillick examines how the built world carries traces of social, economic, and political systems through a broad range of disciplines including object-based installations and published texts. Conceived specifically for Miami, La aparente union del cielo y la tierra (The apparent junction of earth and sky), 2010 presents a series of abstracted works in which Gillick invokes the horizon, a space where viewers can reflect and discuss how the built environment structures and patterns everyday lives.
Out of the Box is funded by the John S. and James L. Knight Foundation's Knight Arts Challenge, a $40 million initiative to bring South Florida together through the arts.
2010 marked Locust Projects' 12-year anniversary. Locust Projects is a not-for-profit exhibition space founded by three Miami artists in 1998 in order to provide contemporary visual artists the freedom to experiment with new ideas and methods without the limitations of conventional exhibition spaces. Artists are encouraged to create site-specific installations as an extension of their representative work, and Locust Projects offers them a vibrant Miami experience to develop their ideas. Locust Projects is committed to offering an approachable and inviting venue for the Miami and international art community to experience the work and meet the artists.
Born in Aylesbury, England in 1964, Liam Gillick studied at Goldsmiths College at the University of London. Gillick's diverse body of work includes sculpture, installation, photography, video, writing, and numerous public projects. Solo exhibitions include The Wood Way, Whitechapel Gallery, London, 2002; A short text on the possibility of creating an economy of equivalence, Palais de Tokyo, 2005; and the retrospective project Three Perspectives and a short scenario, Witte de With, Rotterdam, Kunsthalle Zürich, and Museum of Contemporary Art, Chicago, 2008-2010. Gillick was nominated for the Turner Prize in 2002 and the Vincent Award at the Stedelijk Museum in Amsterdam in 2008. Many public commissions and projects include the Home Office in London (2005) and the Dynamica Building in Guadalajara, Mexico (2009). Gillick was selected to represent Germany for the 53rd Venice Biennale in 2009. A major exhibition of his work opened at the Kunst und Ausstellungshalle der Bundesrepublik Deutschland in April 2010. His work is featured in many museum collections including Tate Modern, London; Centre Pompidou, Paris; Museum of Modern Art, New York; Museum of Contemporary Art, Chicago; and the Solomon R. Guggenheim Museum, New York.
Locust Projects' exhibitions and programming are made possible with the support from: Andy Warhol Foundation; Galt & Skye Mikesell; Hannibal Cox Jr. Foundation; The John S. and James L. Knight Foundation; Miami-Dade County Department of Cultural Affairs, the Cultural Affairs Council, the Mayor, and the Miami-Dade County Board of County Commissioners.
Image courtesy of Liam Gillick and Casey Kaplan, New York
Guests must be 21 years of age or older. This invitation is non-transferable.