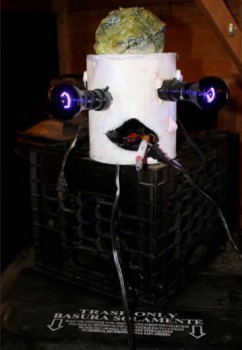 Old Drunk Paintings and Other Works of Fine Art
Jon Pylypchuk
Saturday November 13th, 2010, 7:00 – 9:00pm
Fredric Snitzer Gallery
2247 NW 1st PL
Miami, FL 33127
305.448.8976
info@snitzer.com
November 13th – December 21, 2010
Fredric Snitzer Gallery is pleased to announce Jon Pylypchuk's solo exhibition, Old Drunk Paintings and Other Works of Fine Art, from November 13th to December 21, 2010.
An Opening reception for the artist will be on Saturday, November 13th, 7-10 pm.
Jon Pylypchuk explores social themes such as violence, illness, poverty, and loss. Working with low-cost and found materials such as fake fur, wood, scrap metal, electric lightbulbs …and polyurethane foam, Pylypchuk reinterprets the collage and bricolage practices derived from Art Brut, with winks to Disney and Goya.
Pylypchuk has long made a world of anthropomorphized animals stuffed and suffering a multitude of mishaps. These unfortunate beasts reveal stories of dispossession and neglect, exhibiting a world-weariness that is somewhat comical. Pylypchuk's audiences are outsiders in the realms he fabricates, excluded from the secrets kept and the games played, yet privy to the way in which these created worlds reflect their own, however brutish and disturbing this reflection may be.
"One of the most enjoyable and unsettling aspects of walking through this exhibit is experiencing the alienation effect triggered by the scale of each work. The pieces are hung from floor to ceiling, towering above or meeting the viewer at eye level. They impose their presence upon the gallery space, diminishing those who stand in their midst by violently returning their gaze." Megan Stewart, Montreal Arts Uncovered
Born in Winnipeg, Canada in 1972, Pylypchuk lives and works in Los Angeles. He studied at the University of Manitoba School of Art, where he co-founded the collective known as the Royal Art Lodge in 1996. Two years later, he moved to Los Angeles, receiving his MFA from UCLA in 2001. Capturing international attention, Pylypchuk's work has been exhibited extensively in the United States, Europe and Asia. At present, Pylypchuk is in a solo exhibition at the Musee d'art contemporain de Montreal until January 4, 2011.
Pylypchuk's work is in the collections of the Los Angeles County Museum of Art; the Museum of Contemporary Art, Los Angeles; the Museum of Modern Art, New York and the Whitney Museum of American Art.