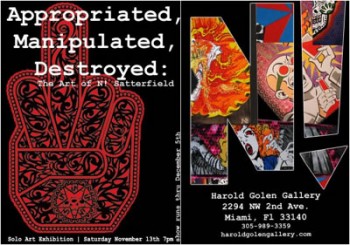 Saturday, November 13th, 7-11pm
The Art of N! SATTERFIELD
Harold Golen Gallery
2294 NW 2nd Ave.
Miami, Fl 33127
305-989-3359
haroldgolengallery.com
In his own words:
With that you're probably wondering, "What the heck is N!?", or possibly, "Who is this N! person?".
You see, some folks believe I am a graffiti artist or a stencil artist because of the tools and techniques I employ, but graffiti is a pretty vague term and stencils are simply mark-making tools. Granted, I'll admit to creating quite a bit of stencil graffiti in my time on the planet but that's only a small part of the picture. Somewhere in the process I became more interested in using the tools of the trade (spray paint, caps, stencils, attitude) to make something more visually pleasing."So it's pop art?" Well, I do veil my subversive tendencies in the veneer of tiki imagery and thereby gain the ability to comment on it. And it's certainly as pretty as it is confrontational, but it's basically an exercise in culture jamming and as such is social commentary.
I can take any image or symbol (or symbolic image for that matter), re-contextualize it, and ultimately liberate it. By ingesting the wash of pop cultural debris and regurgitating it back to the masses I'm able to point out the humor in it, address it's shortcomings, or simply allow the viewer to reflect on their own relationship with it.
I defy common perceptions of what spray paint is "supposed" to look like and have a loads of fun playing with the results. Quite frankly, I like things that way. I simply refer to it as "urban folk art" and I really hope you enjoy it.